So the wife went to dinner with some friends and left me to fend for myself.  For most people, this might mean a microwave meal or possibly ordering in some food. I must have some wires crossed cause when I've got all the time in the world, I go crazy. This was compounded by the fact that I got a new camera and wanted to try and make some picture worthy food. BJ's actually cuts meat to order so I had the guy butcher me some massive, 3 inch thick filet mignons. Of course I then proceeded to wrap them in bacon, along with some vegies, and off I went!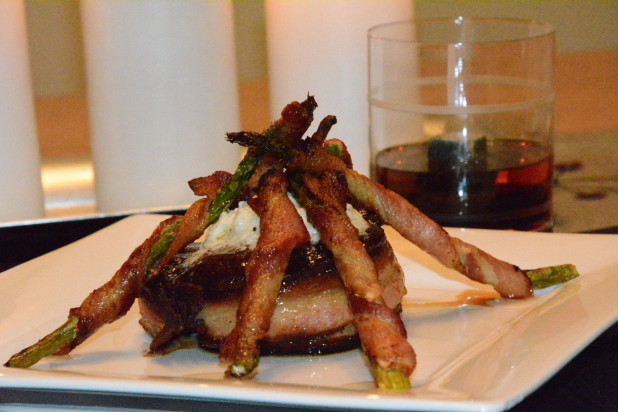 Here's the finished product!  It went really well and I don't think the pictures turned out bad either, what do you think?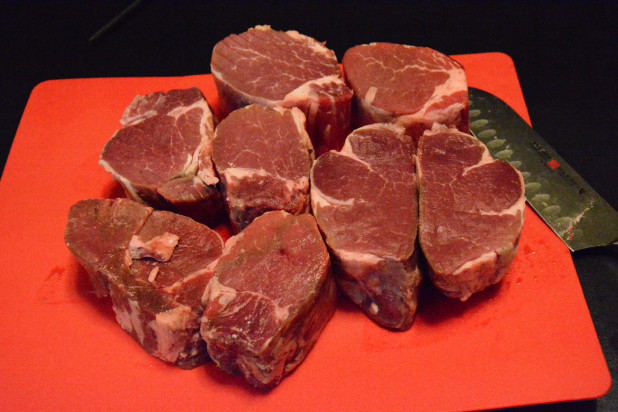 Like I said, it all starts with the beef.  I had the guy cut up some super thick filet mignons for me at the store.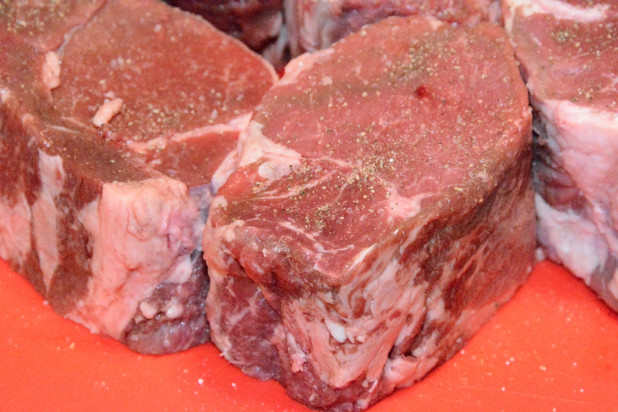 Then I salted and peppered both sides.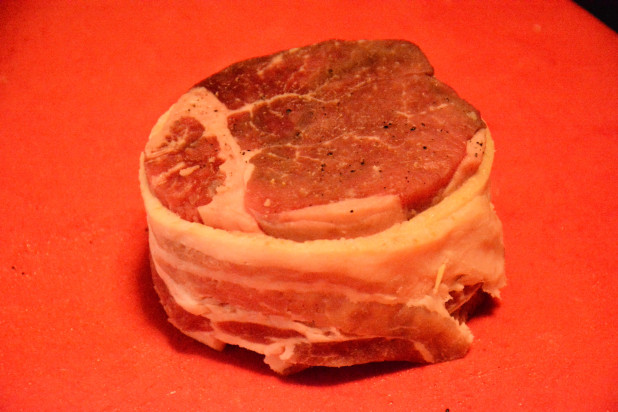 Next came the bacon wrapping.  You want to get some nice, thick bacon for this part.  I know it sounds crazy but I actually go through the bin at the store and pick out the "good" bacon.  Some of the bacon has flaws in it which makes it harder to mold for certain projects.  Also I look for nice long, thick pieces.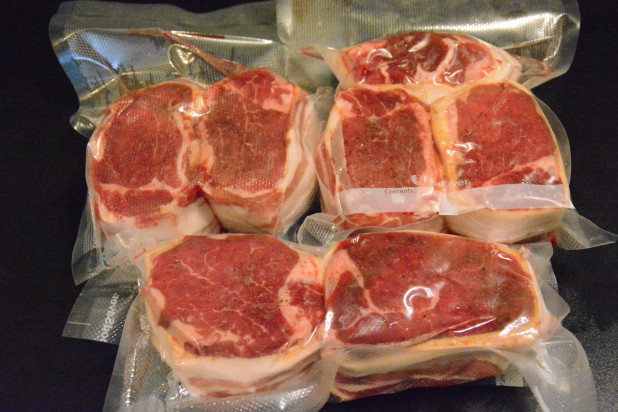 I knew this meal was going to be good, so I didn't want to totally exclude the wife from tasting it 😉  Rather than cook all 8 filets at once, I vacuum sealed the prepared meat into dinner size packages. This made it really easy the following nights when I cooked it.  All I had to do was cut open the package and I was ready to go!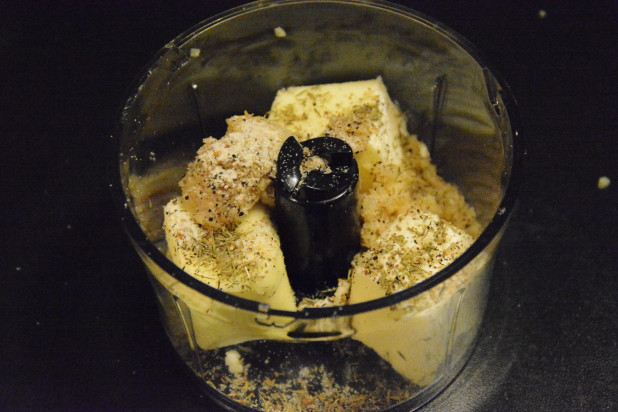 Next, I prepared the Bleu Cheese Butter.  It was pretty easy and shockingly good.  I think I have underestimated the power of making your own flavored butters in the past.  I'm definitely going to try it more in the future.  All you have to do is soften the butter, either naturally or in the microwave, and add it to a food processor with the spices.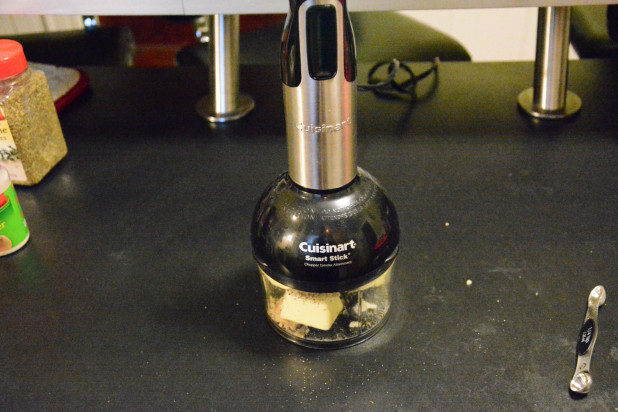 I used the mini food processor that comes with my immersion blender and off I went! It was the perfect size for this job.  You could also use a regular food processor or probably a blender.  Mixing it by hand would also work, but possibly result in a thicker, chunkier butter.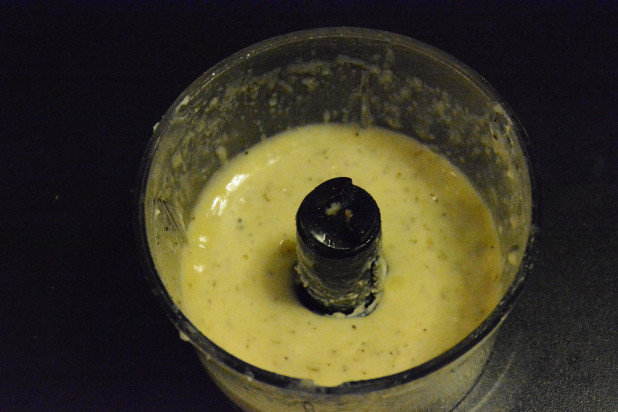 Here's what it looked like before adding the bleu cheese.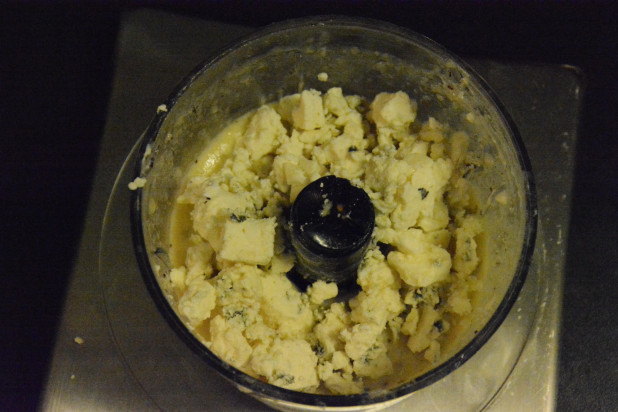 After the first round, add in the bleu cheese.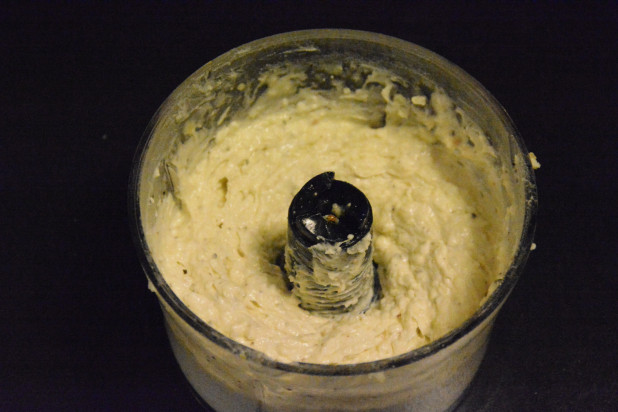 Yum!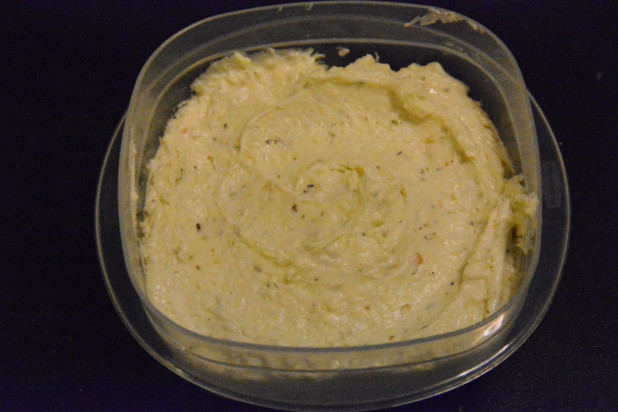 I stored it in a tiny resealable container so I could serve it every night with the steak.  If you're making a lot of butter, you could also reform it into a stick and freeze it for another time.
For a side I made Asparagus wrapped in Bacon. In the original recipe I did whole bunches of asparagus wrapped with one piece of bacon.  Here I decided to wrap each asparagus spear with half a piece of bacon.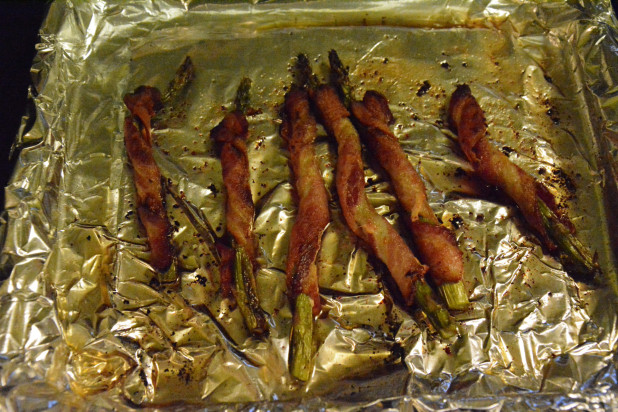 It worked out really well!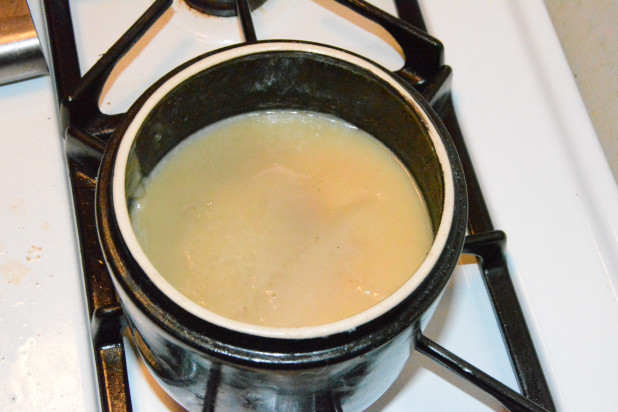 For the next part, we're going to be searing the steak in bacon grease.  You do have a bacon grease storing device don't you? These things are the bomb and allow you to easily store your bacon grease.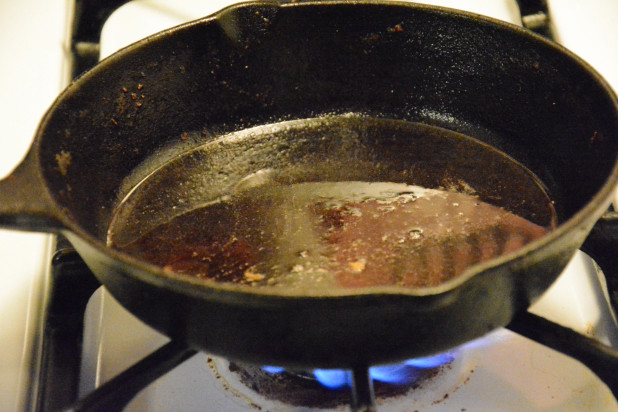 Get the oil really hot.  Since I was cooking for one tonight I used my small skillet.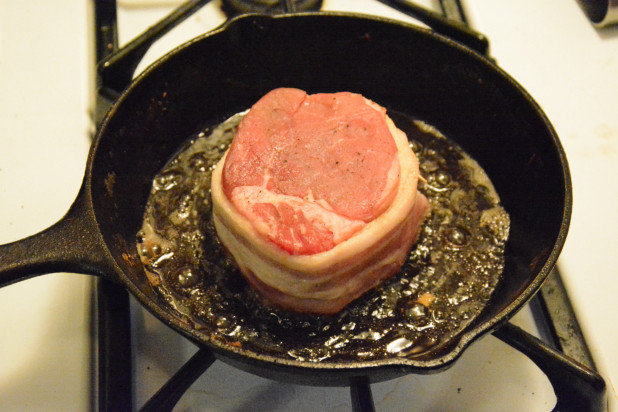 Plop the Filet Mignon wrapped in Bacon onto the skillet and really let it sit.  No really, don't touch it, at all.  I like to sear each side for 3 minutes, then put it in the over for finishing.  This allows you to cook the steak to any desired finishing temperature.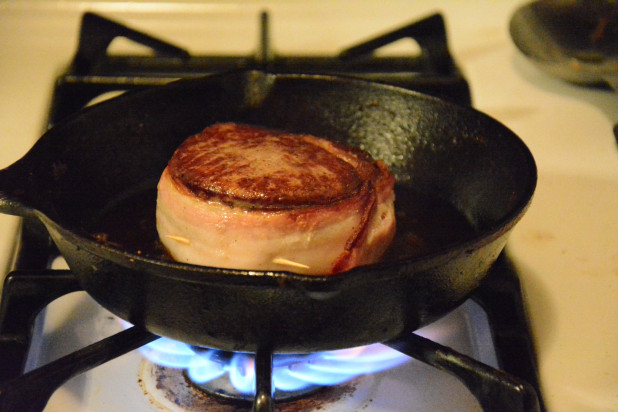 You should have a nice, brown sear on the first side!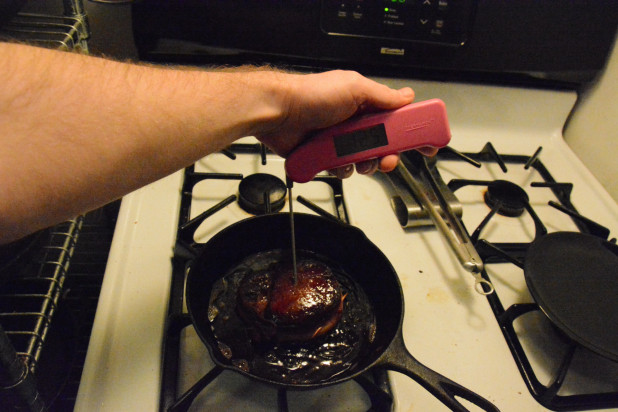 After you sear it, throw it in the oven for a number of minutes.  For this size steak, I did 3 each side, then cooked it in the oven at 450 for 10 minutes.  However, the real answer is you should use a thermometer and take it out 5 degrees lower than your desired finish temperature.  The above picture is horrible but I used my thermapen and pulled it when the temp hit 120. This left me with a medium / medium rare steak.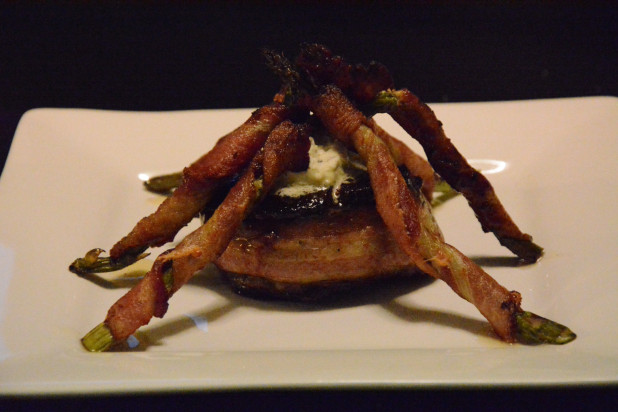 And there we have it! Top it off with some Bleu Cheese Butter, let it sit covered for 5 minutes, and serve!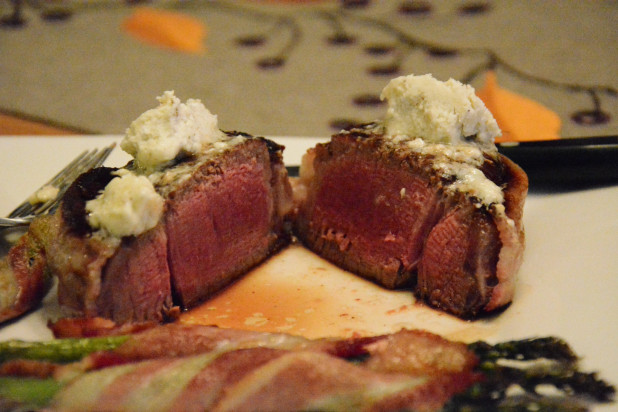 I can honestly say, this was one of the best steaks I've ever had. It was perfectly cooked and super delicious!

Bacon wrapped Filet Mignon with Bleu Cheese Butter
Nutrition Information
Serving size:

9 Oz

Calories:

598
Fat:

37

Carbohydrates:

1

Fiber:

0

Protein:

61
Prep time:
Cook time:
Total time: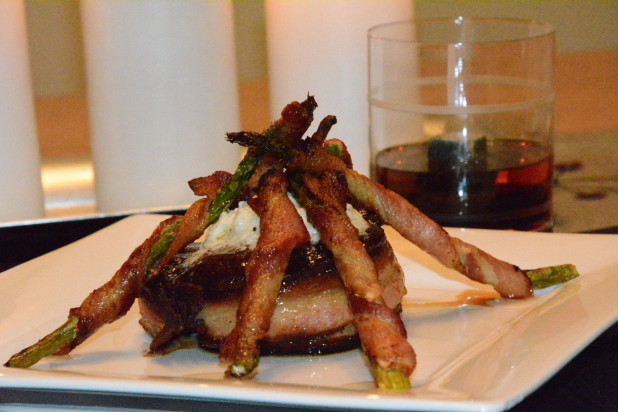 Ingredients
Bacon Wrapped Filet Mignon
8 - 8-10 Oz Filet Mignons, 3 inches thick
8 Bacon Slices
Salt and Pepper to taste
Bleu Cheese Butter
1 Stick Butter
2 Tbsp Minced Garlic
¼ tsp Onion Powder
¼ tsp Montreal Steak Seasoning
75 g Bleu Cheese
¼ tsp Dried Thyme
Instructions
Bleu Cheese Butter:
Soften the butter, either in the microwave or with time, and add to a food processor
Add the rest of the butter ingredients except the bleu cheese
Mince the mixture until blended
Add the bleu cheese and mix again
Transfer to a tupperware container and refrigerate, can be prepared ahead of time
Bacon Wrapped Filet Mignon:
Remove meat from the refrigerator and bring to room temperature (30 min)
Salt and pepper both sides
Wrap with bacon, securing with a toothpick
Sear on high heat in an oven proof skillet for three minutes a side
Transfer to a 450 degree oven and cook until done
For a 3 inch filet mignon this will be 8-10 minutes but you should check with a thermometer for your desired finish level and meat thickness
Notes
Asparagus side not included in nutrition info, just Bacon wrapped FIlet Mignon and Bleu Cheese Butter.