I love brussels sprouts.  They are one of my favorite vegetables but its so much work to prepare them.  I really like my Bacon Brussels Sprouts but to properly prepare them you need to quarter and wash a million brussels sprouts! Then I got the idea, why not shred the sprouts?  Just rinse them off and through them through the food processor!  It worked out really well and made a nice little vegetable patty.  In fact, I think if I were to have a vegetarian over, I would probably make these instead of veggie burgers! I made these for Valentine's day along with Seared and Stuffed Flank Steak and Strawberry Cheesecake.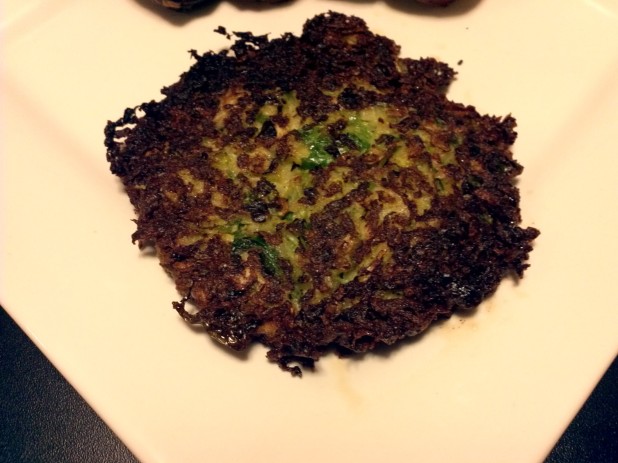 Here's the pan fried finished product, the brussels sprout burger!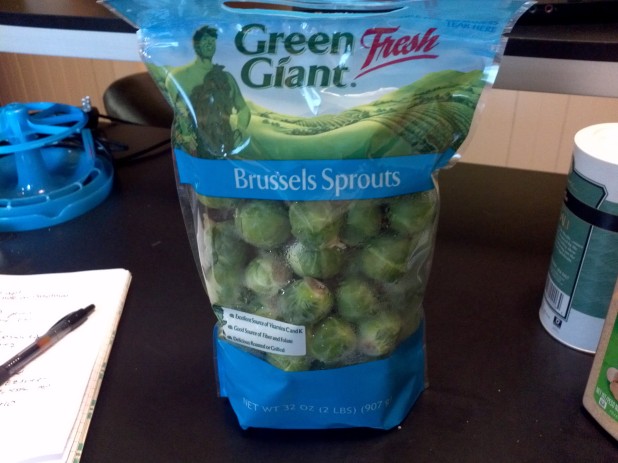 Start with a decent set of brussels sprouts.  I get these large bags from BJs.  I wouldn't get frozen ones, for some reason those seem to taste off and are normally not a green.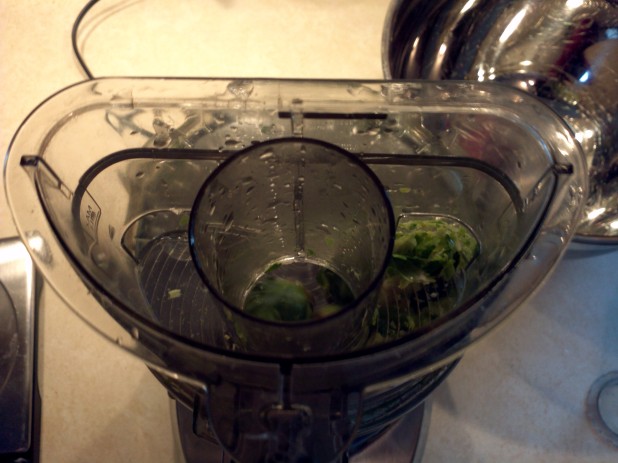 The next step is to shred the brussels sprouts.  To do this, I just used the grater wheel on the food processor with the chute open. I just washed a handful of the brussels sprouts and tossed them in the whole!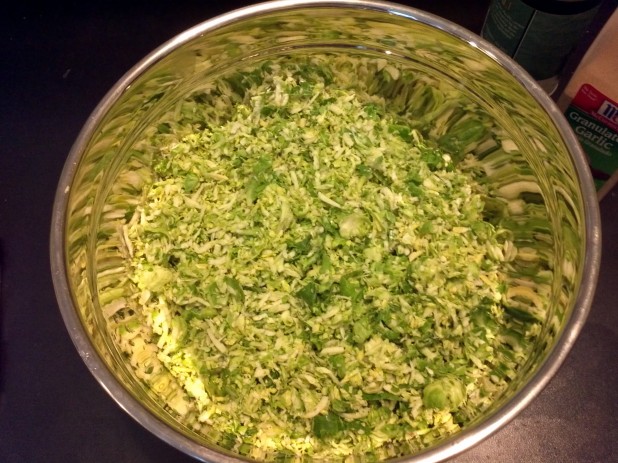 It worked out really well!  It made a ton of brussels sprouts with none of the hassle.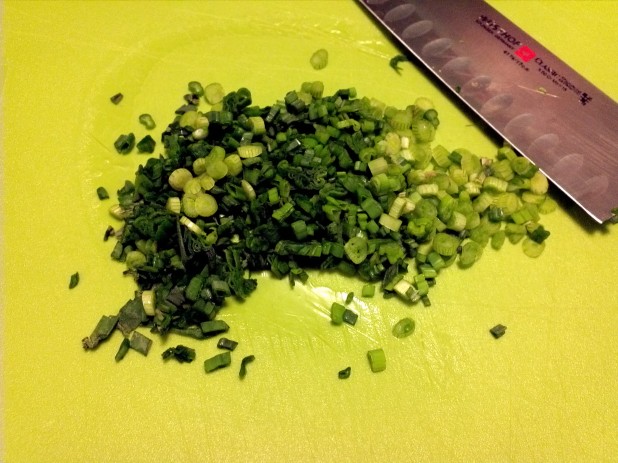 Next chop some green onions and mix them in with the brussels sprouts.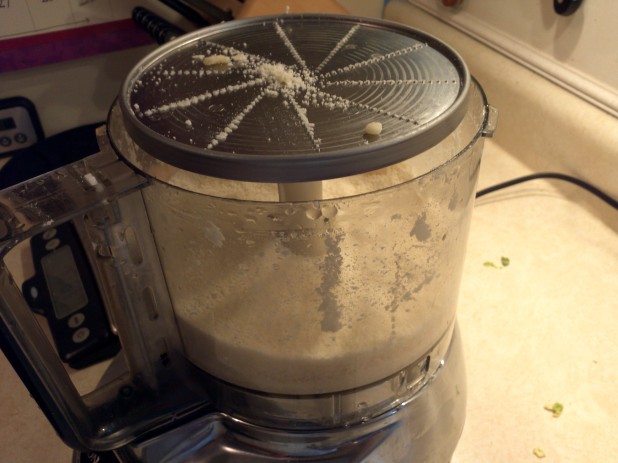 Next we need to add some fillers to the brussels sprouts to turn it into a sort of dough.  The first part of this is grated parmesan cheese.  Since I already had the food processor out, I used my new fine grater disc to pulverize the parmesan cheese. It was pretty interesting, it created super fine particles of parmesan in literally seconds.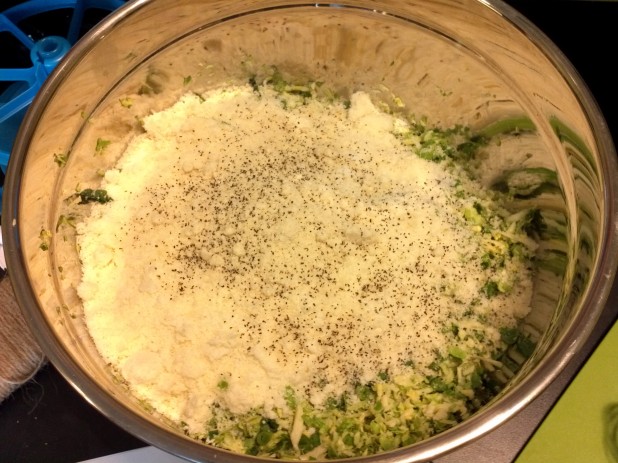 Add the parmesan cheese, almond flour, and seasoning to the brussels sprouts and mix thoroughly.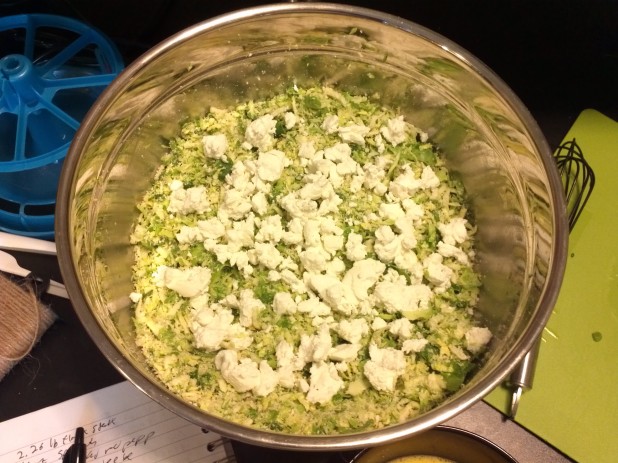 Crumble some goat cheese onto the mix and use your hands to work it into the mix.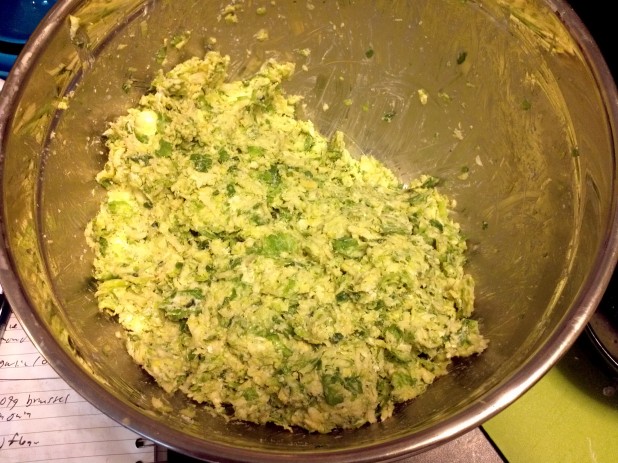 Finally, add the eggs and continue mixing.  It should look like this.  At this point its pretty malleable and capable of being formed.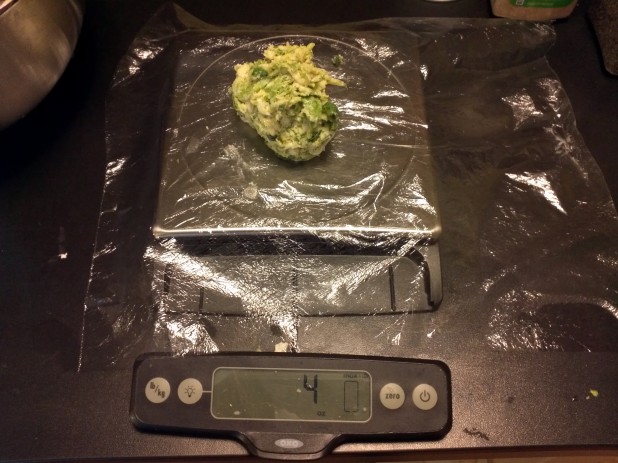 By the way, a good trick is to take your food scale and cover it with saran wrap. Then just plop the required amount onto the scale to get consistent patties. You can eyeball it as well but this will result in uniform patty sizes which will translate to even and consistent cooking times.  I chose to make 4 ounce patties which yielded 14 patties total.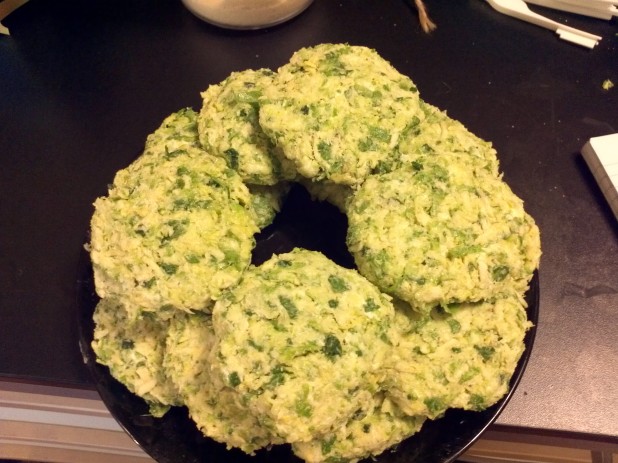 Here are the finished Brussels Sprout Patties!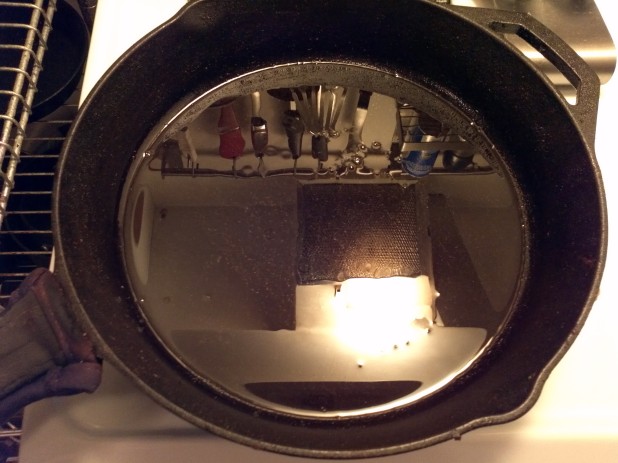 Make sure to preheat the oil and get it pretty hot.  You want it to sizzle and to create a nice brown layer on the patty. I used bacon grease but if your making this for a vegetarian make sure to use something different 🙂
Here are the patties frying.  I cooked them for 2.5 minutes per side and it turned out really well!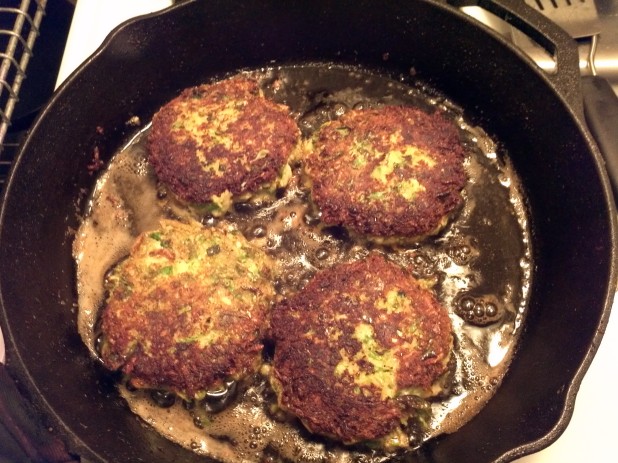 Flip 'em over and fry the other side!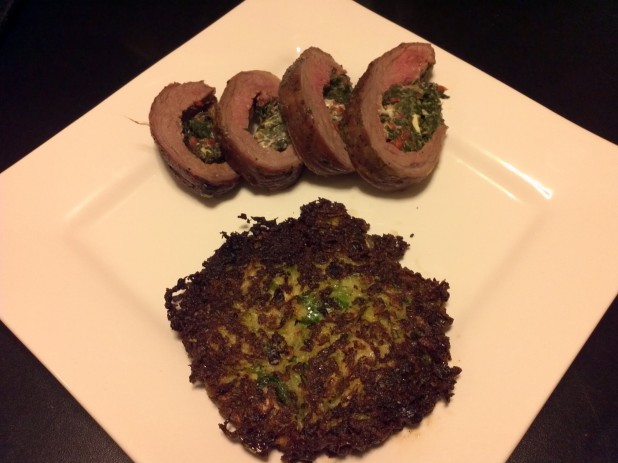 Here's the finished Brussels Sprout Burger we had on Valentine's day with some Seared and Stuffed Flank Steak!  I didn't show it here but you can serve this with some sour cream on top.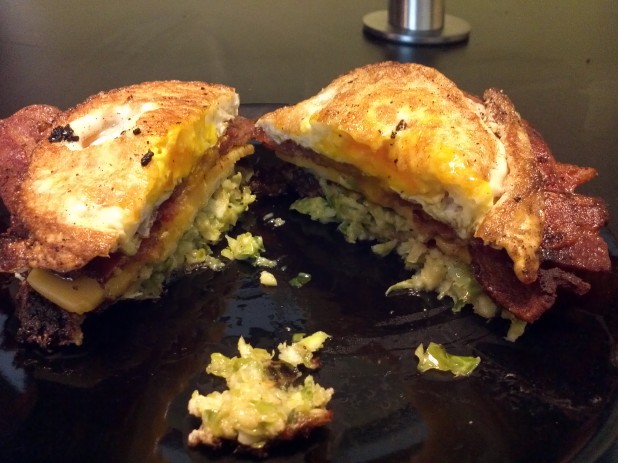 I also tried eating them with breakfast with great success!  I just fried up a bacon weave, added some cheese and threw an over-easy egg on top!!

Brussels Sprout Burgers
Nutrition Information
Serving size:

1/14th

Calories:

182
Fat:

11

Carbohydrates:

7

Fiber:

3

Protein:

14
Prep time:
Cook time:
Total time: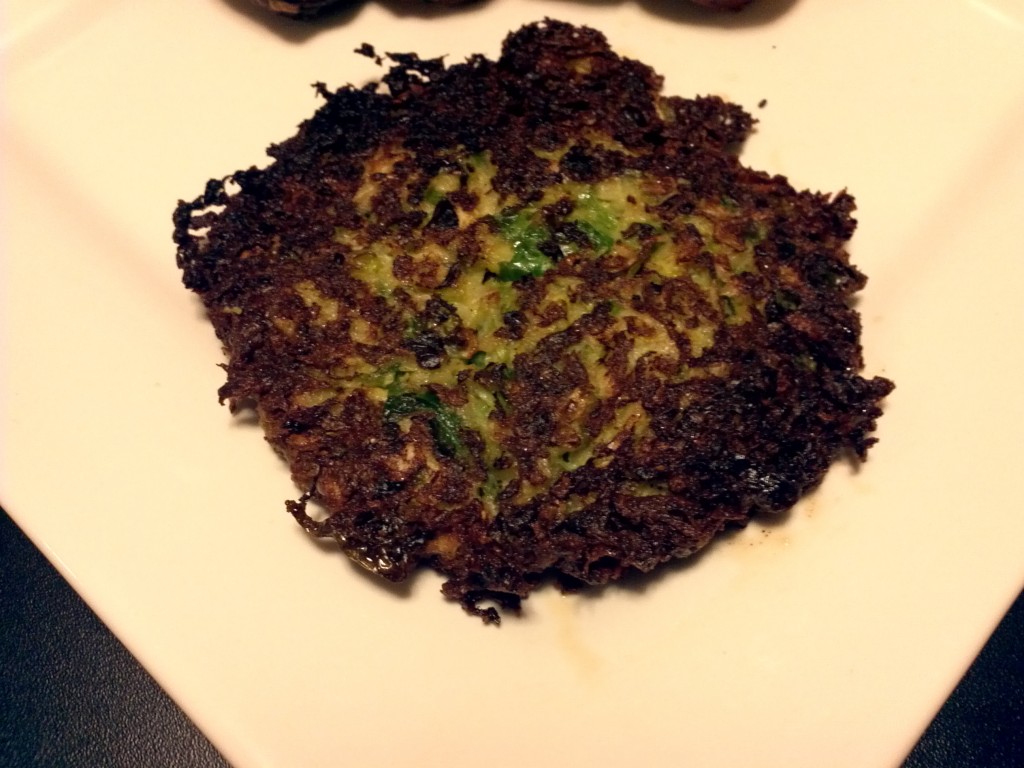 Ingredients
32 oz Brussels Sprouts (907g)
36 g Green Onion
8 oz Parmesan Cheese
⅓ cup Almond Flour
3 Eggs
11 oz Goat Cheese
Salt and Pepper to taste
Instructions
Wash Brussels Sprouts and shred using the grater function of a food processor
Finely grate the Parmesan and mix with the brussels sprouts along with the almond flour, salt and pepper
Crumble the goat cheese onto the mixture and use your hands to combine
Beat three eggs together and combine with the mixture
Patty out 4 oz "burgers"
Heat oil in a cast iron skillet
Fry the burgers for 2.5 minutes per side until crisp