Update: I've posted a YouTube video on making Cheesy Chicken Casserole!
I am constantly on the look out for recipes that I can make for the entire work week. I call these 5-day recipes because they can make lunch for two for 4-6 days which covers the wife and I for the week. My new favorite is this Mexican inspired cheesy chicken casserole!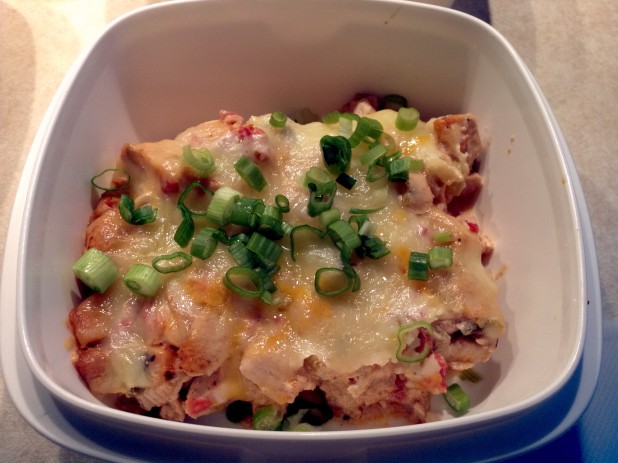 Yum! Here is the final dish stored into our Ikea tupperware.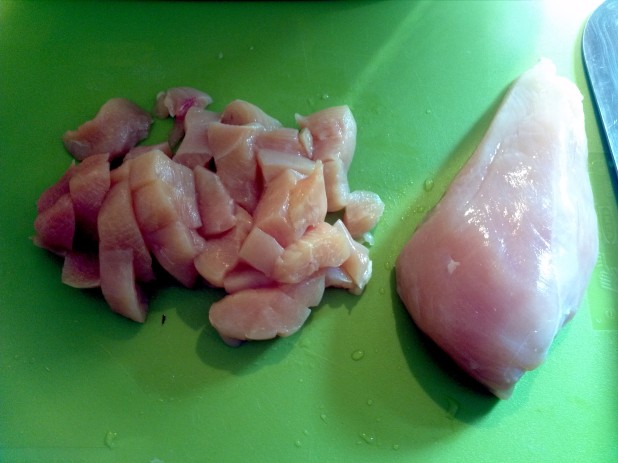 Start by cutting up the chicken into chunks.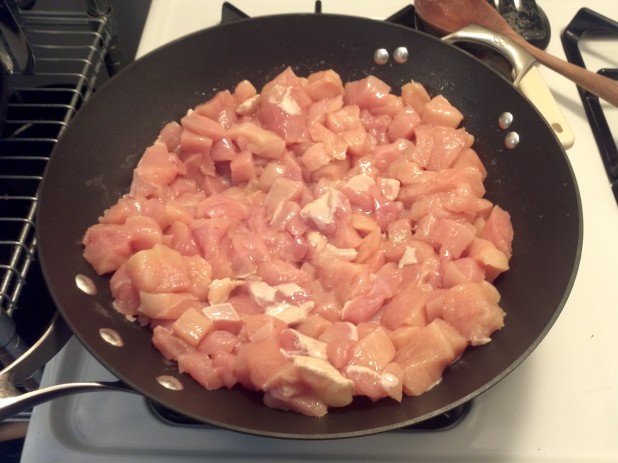 If you make this for an entire week, you need a big pan!  I use my Calphalon Wok which is great for cooking a huge amount of food.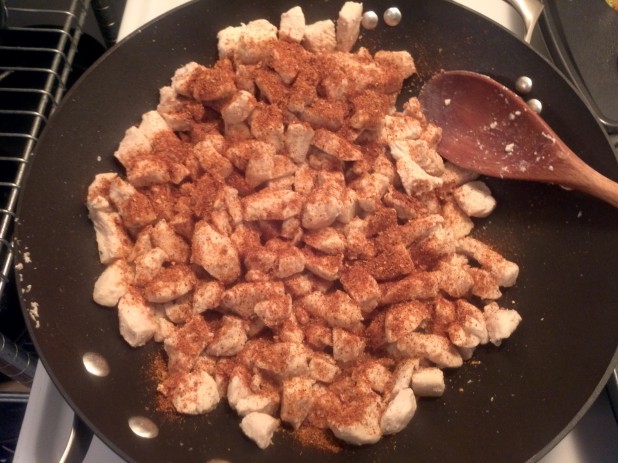 Once the chicken is cooked, use the lid to act a strainer and drain the extra liquid.  Then add taco seasoning and cook for a few minutes to incorporate.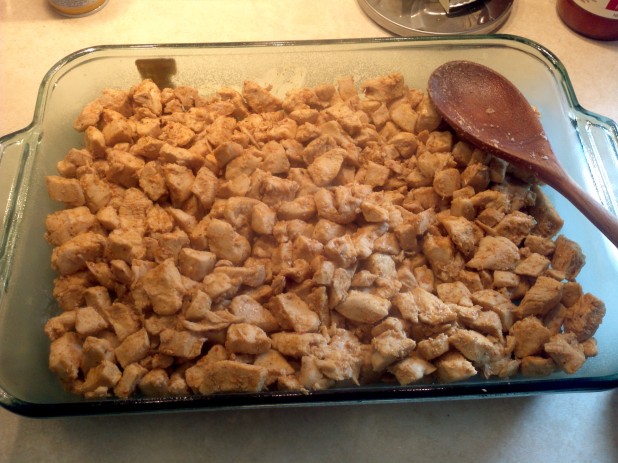 Grease a large pan and add the chicken.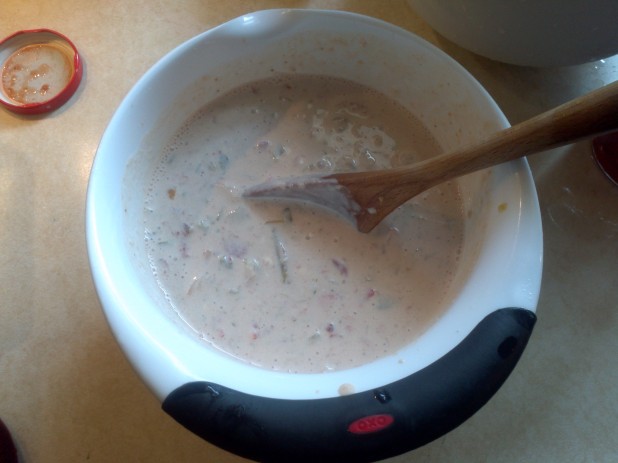 Mix the sour cream, salsa and chiles.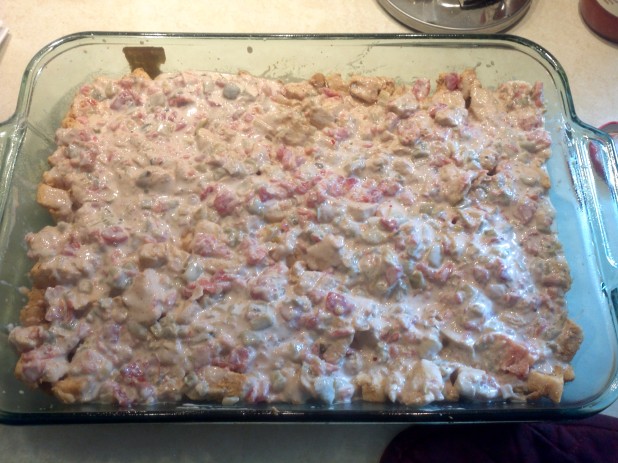 Pour the liquid over the chicken and bake for 25 minutes at 350 degrees.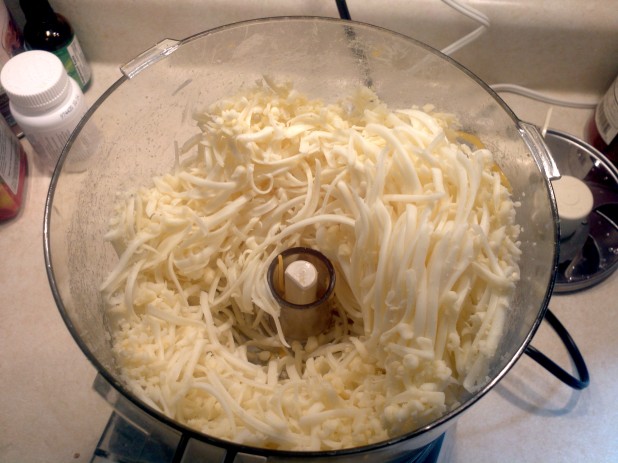 While the chicken is cooking, shred the Monterey Jack cheese. You can also buy preshredded.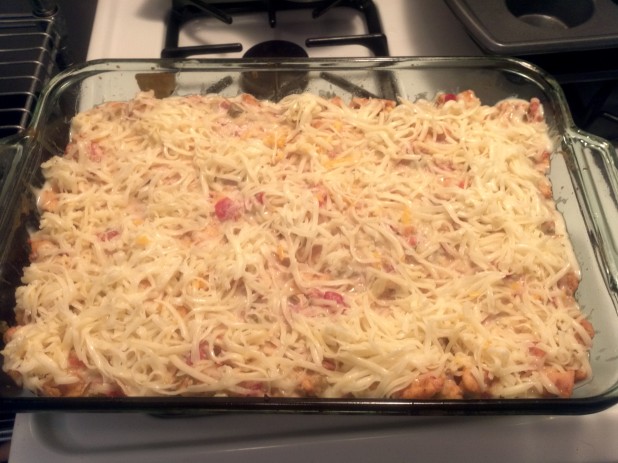 After cooking the chicken for 25 minutes, add the cheese and cook for 5 more minutes.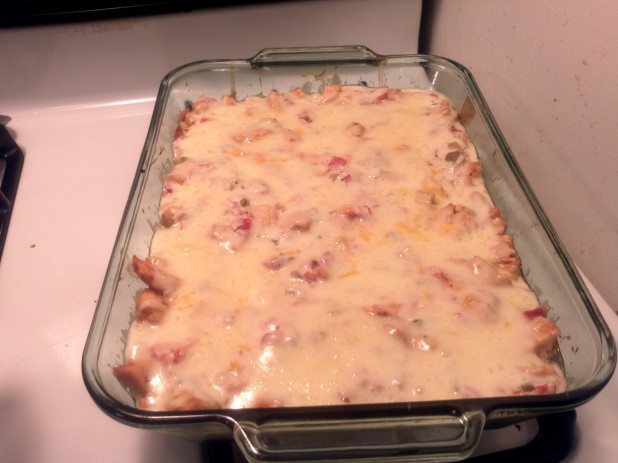 Finished Cheesy Chicken Casserole!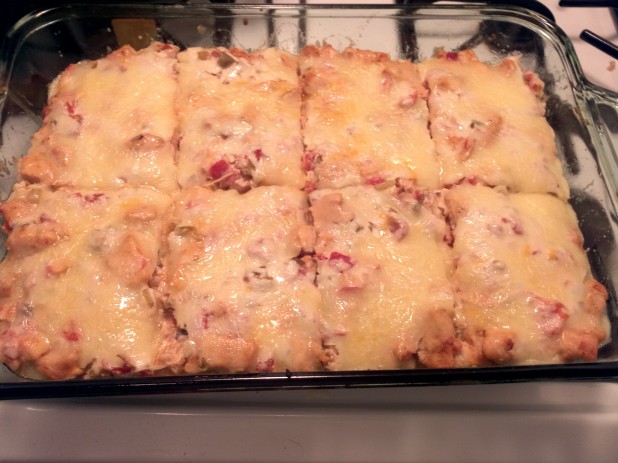 Let the dish cool and cut into pieces. Store in tupperware and garnish with green onions.

Cheesy Chicken Casserole
Nutrition Information
Serving size:

⅛th

Calories:

351
Fat:

17

Carbohydrates:

7

Fiber:

1

Protein:

34
Prep time:
Cook time:
Total time: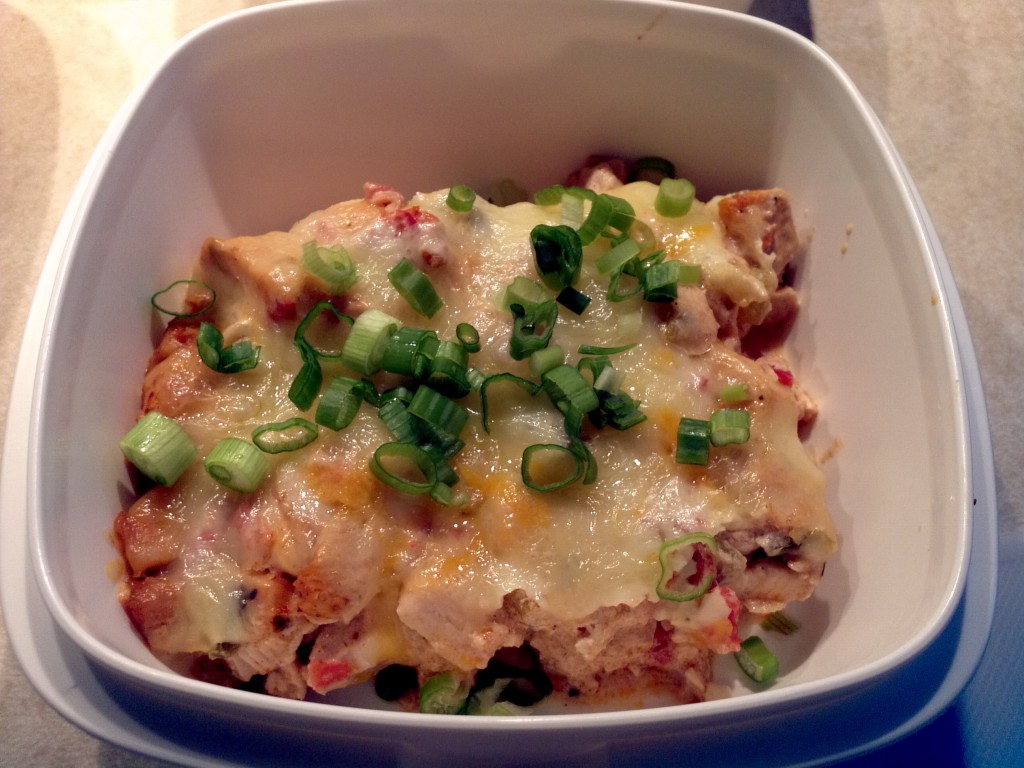 Ingredients
8 Chicken breasts
1 Cup Sour Cream
8 oz Monterey Jack Cheese
4 oz Diced Green Chiles
4 tsp Taco Seasoning
16 oz Green Salsa
4 Stalks Green Onions
Instructions
Cut the chicken breasts into chunks
Cook the chicken breasts in a pan, if your pan isn't big enough, do it in batches
Once the chicken is cooked, drain the excess liquid, in my case I just used the lid of the wok to get most of the liquid out
Add taco seasoning to the cooked chicken breasts
Transfer the chicken into a greased pan
Mix sour cream, chiles and salsa together and pour over chicken
Cook for 25 minutes at 350 degrees
Shred the Monterey Jack cheese while the chicken is cooking
Once the chicken is done, remove and cover in cheese and cook for 5 minutes longer
Let cool, cut into pieces, transfer to tupperware and garnish with green onions
Cuisinart 9-Cup Food Processor
I first got this food processor as a wedding gift and I wasn't sure how I felt about it. Well, let me tell you, its been a godsend on keto! I shred cheese, slice brussels sprouts, and rice cauliflower like a boss!
4.8 Quart Casserole Dish
Great for cooking those gigantic, week long casseroles! I call them 5day meals on the website. Normal casserole dishes are 10×13 but this one is gigantic and can easily be divided into ten portions.
Glasslock Lunch Containers
The easiest way to conquer keto is to premake your lunches. I used to use Ikea 365+ containers but they started to leak after a while. These glasslock containers are by far the nicest I've ever seen.