Update: This recipe is now also on the CMK YouTube channel, check it out!
The number one request I've had lately is for more crockpot recipes. One of the most popular recipes on the site is Caveman Chili and who doesn't want a simple recipe where you set the crockpot up in the morning and come home to a nice, finished meal? So I decided to make a chicken version of the famous dish and it turned out really well!  Check out the dish below: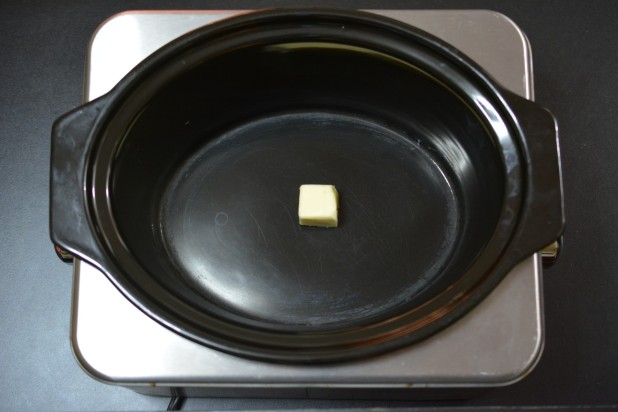 Start by placing a pat of butter in the center of the crockpot.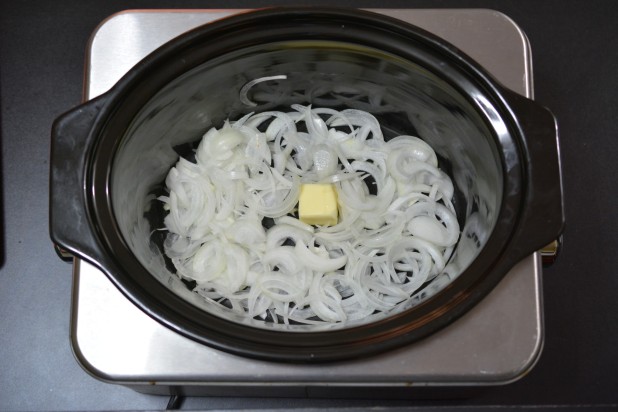 Then thinly slice an onion and distribute them throughout the pot.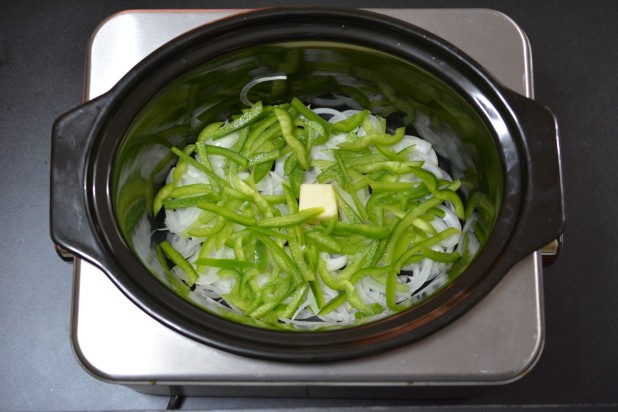 Do the same thing for a pepper.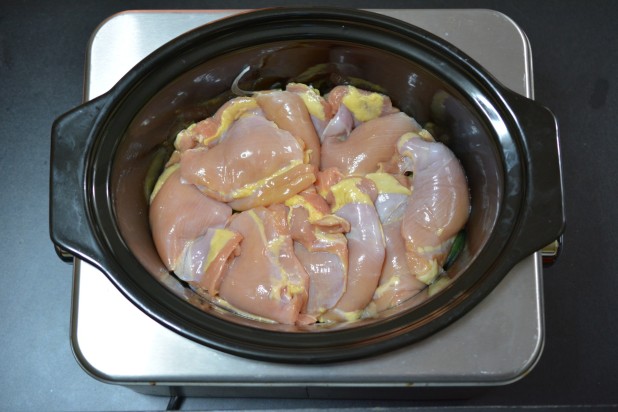 Now create a layer with boneless chicken thighs.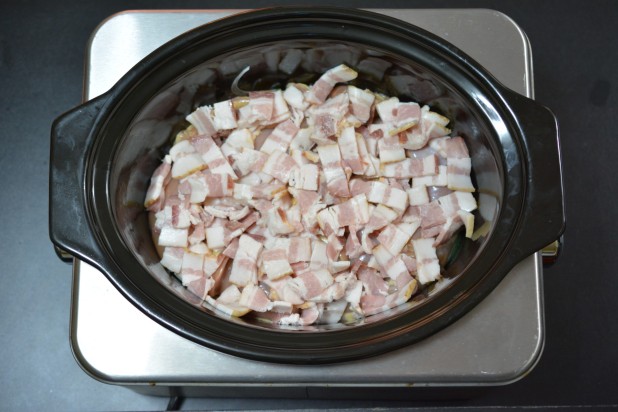 And then slice some bacon and make another layer.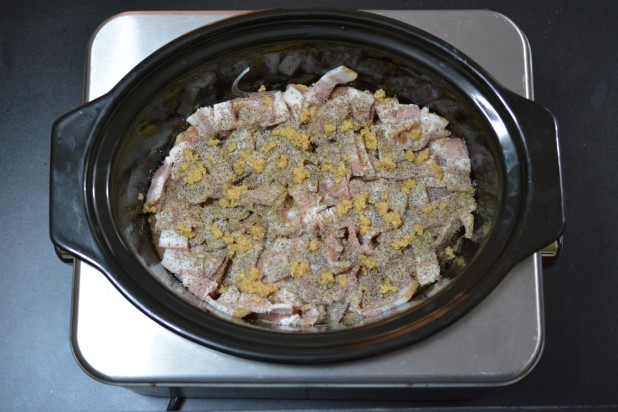 Next comes the spices.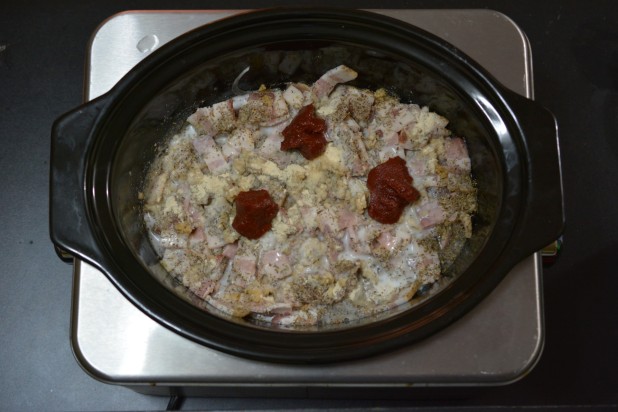 And finally add the liquids and the tomato paste.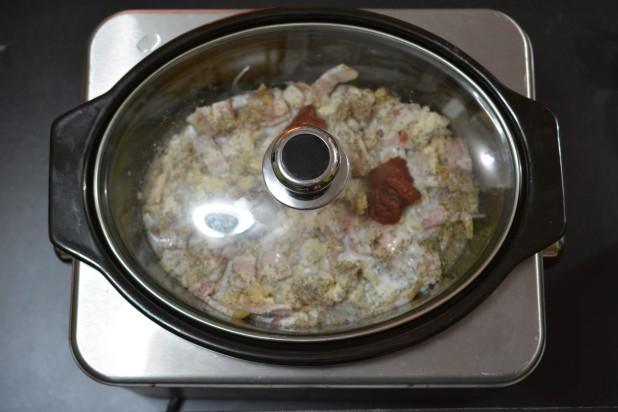 Cover the crockpot, set it to 6 hours on low, and get ready for a taste explosion!  Note that you can make it the night before, refrigerate it and put it on in the morning.
Here's what it looked like when I got home.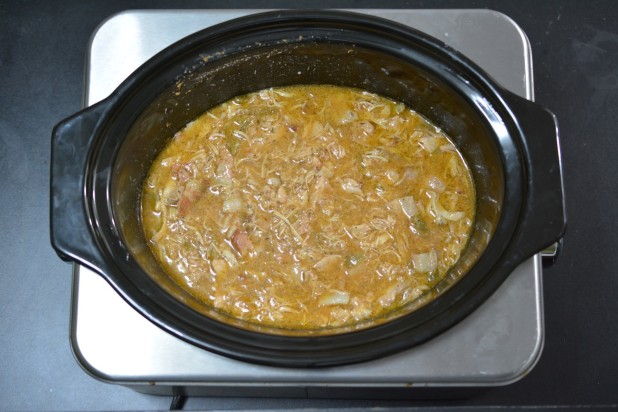 You want to take a spoon and mix the chili and also to breakup the chicken thighs.  They basically fell apart themselves without much prodding.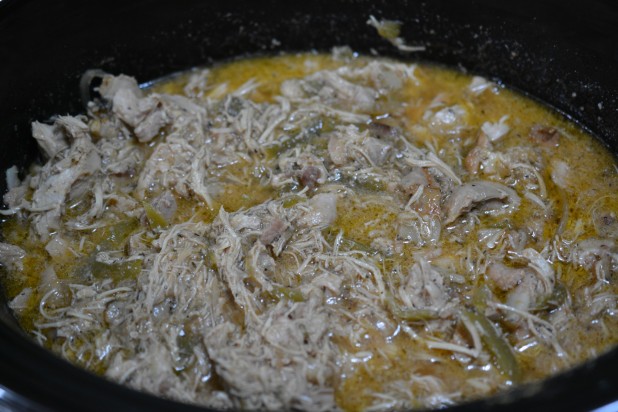 Mmmmm!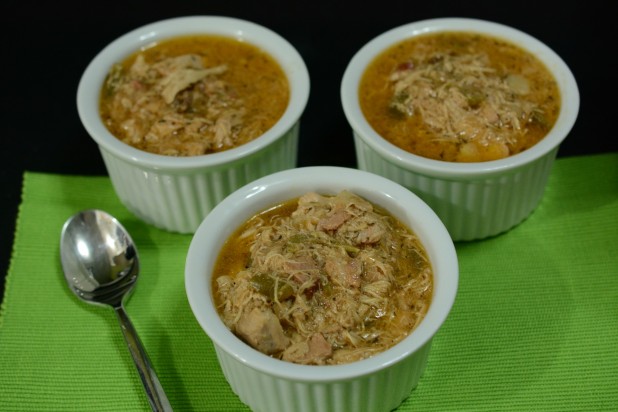 Here's the finished result!  It was super delicious and turned out better than I expected!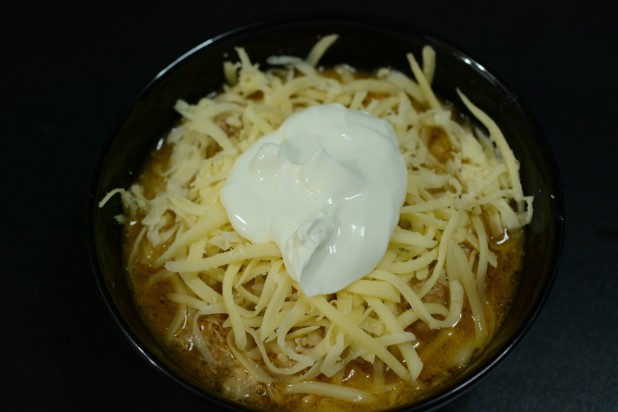 The second night I added some Swiss cheese and topped it with a dollup of sour cream 🙂

Chicken Chili Soup
Nutrition Information
Serving size:

300g (1/8th)

Calories:

396
Fat:

21

Carbohydrates:

7

Fiber:

2

Protein:

41
Prep time:
Cook time:
Total time: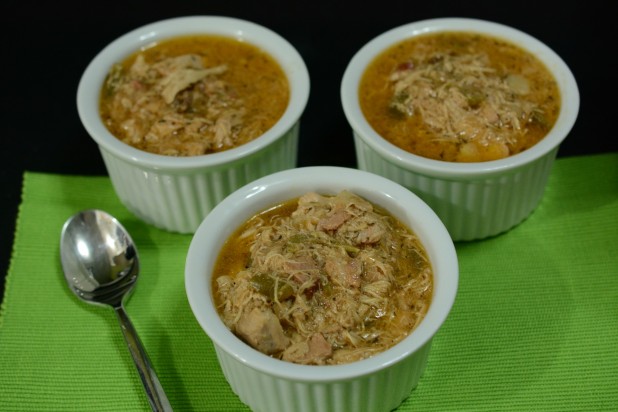 Ingredients
2 Tablespoons Unsalted Butter
1 Onion (250g)
1 Pepper
8 Boneless Chicken Thighs (~55 Oz)
8 Slices of Bacon
1 Tablespoon Thyme
1 teaspoon salt
1 teaspoon pepper
1 Tablespoon Minced Garlic
1 Tablespoon Coconut Flour
3 Tablespoons Lemon Juice
1 Cup Chicken Stock
¼ Cup Unsweetened Coconut Milk
3 Tablespoons Tomato Paste
Instructions
Plate pat of butter on the center of the crockpot
Thinly slice onions and peppers and evenly distribute them over the bottom of the crockpot
Cover with boneless chicken thighs
Cut up 8 slices of bacon and distribute over the chicken
Add seasonings (salt, pepper, garlic, coconut flour)
Add liquids (lemon juice, chicken stock, coconut milk) and tomato paste
Cook on low for 6 hours
Stir and breakup chicken before serving
Optionally, top with cheese and sour cream!
Cuisinart PSC-650 6-1/2-Quart Crockpot
Useful for set it and a forget it meals where you place all the items into the crockpot and let it rip! Most crockpots use a ceramic, dishwasher safe bowl that's heated from the outside to a low temperature which allows the ingredients to simmer for hours.
Victorinox Fibrox 8″ Chef's Knife
You really only need one good knife. This one is it. America's Test Kitchen rated it the number one budget knife!

Non-slip Cutting Board
Let's face it, keto involves a lot of prep. You've got to slice all those vegetables, cut up all that meat and not just any old board will do. Make sure to grab yourself a nice non-slip one for the kitchen!