In my last post I was trying to recreate hash browns using Rutabagas. Today I will recreate the old standby, mashed potatoes.  Even though the Rutabaga is not quite as low carb as I thought it was, its still a decent vegetable for this process.  For the same volume as this recipe, 300g, Cauliflower is 16 carbs, 8 fiber.  Potatoes come in at 54 carbs and 4 fiber and Rutabagas come in at 24 carbs and 8 fiber (all per MFP).  So this recipe has more carbs than just using cauliflower but far less than actual potatoes.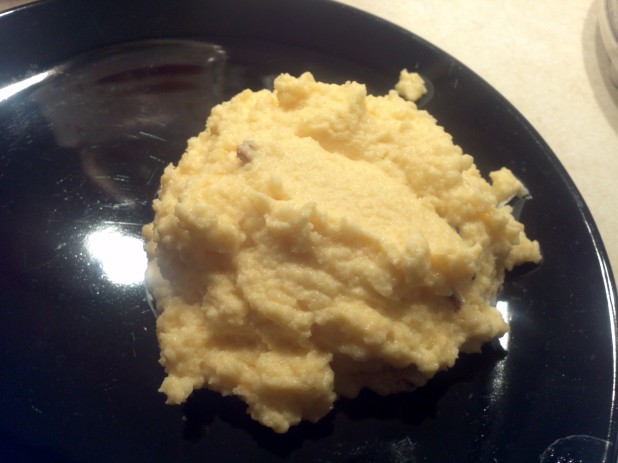 Here is the finished product; looks just like mashed potatoes!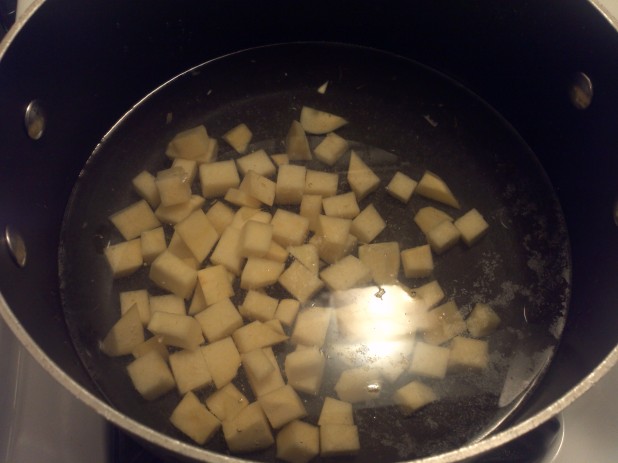 Start by skinning the Rutabaga and chopping it into cubes.  They don't have to be as small as this.  I prechopped the rutabaga for my breakfast rutabaga hash browns so they were already small.  Bring to a boil and simmer until soft.  This means you can fork it and the cube falls off the fork.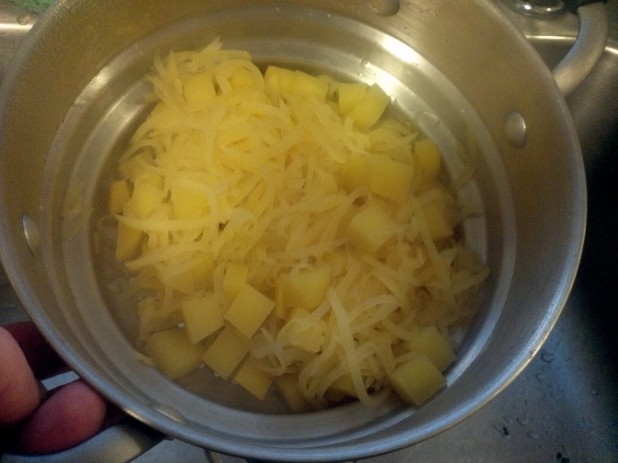 Drain the Rutabagas.  I had some shredded rutabaga left over from breakfast so I threw that into the water as well.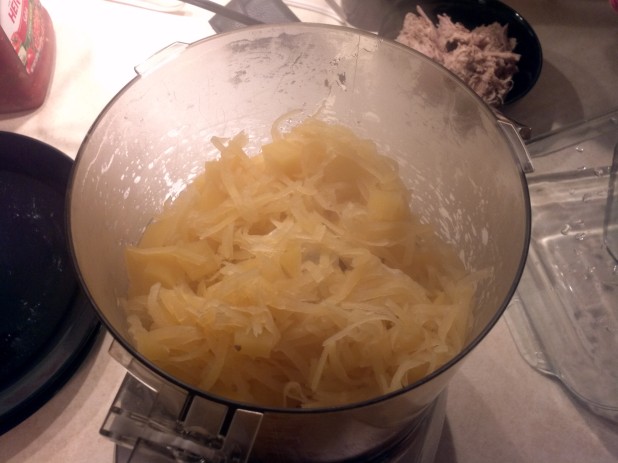 Throw the Rutabagas into your food processor with the chopping attachment installed.  Pulse it until the Rutabagas are broken into small pieces.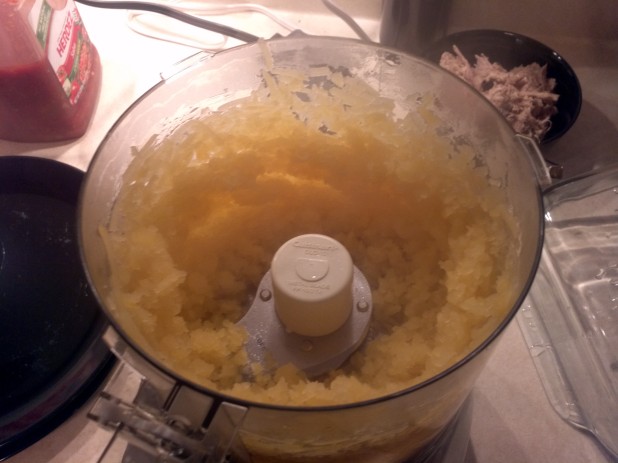 Here is the chopped Rutabagas. At this point, I threw in some sour cream, cheese and butter and pulsed it again.  Once that was melted and incorporated, I removed the blade and folded in some bacon.  You can put whatever you want into your mashed Rutabagas.  Other ideas could include green onions, cream instead of sour cream, etc.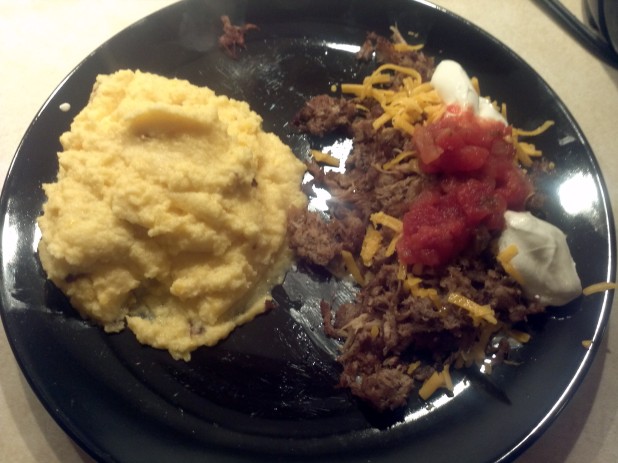 Here is the final product, plated with some pork carnitas! Enjoy!!
Mashed Rutabagas
Nutrition Information
Serving size:

1

Calories:

334
Fat:

28

Carbohydrates:

9

Fiber:

3

Protein:

11
Prep time:
Cook time:
Total time: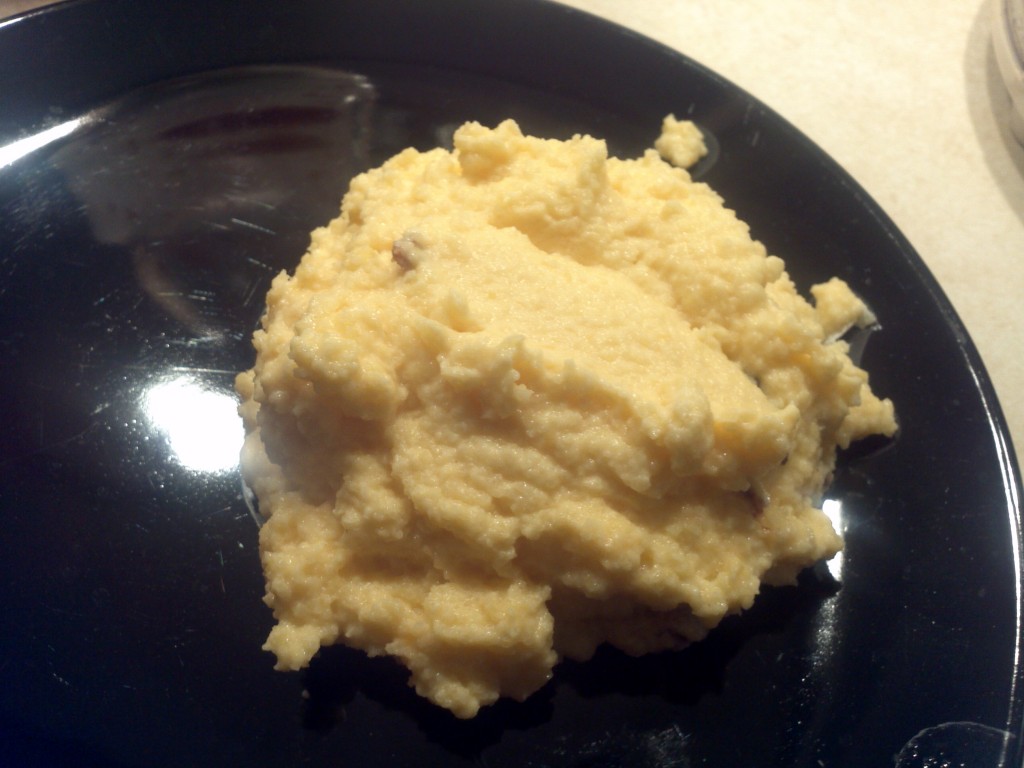 Ingredients
400 g Peeled, Cubed Rutabagas
8 Tbsp Sour Cream
4 Oz. Shredded Cheddar Cheese
4 Tbsp Butter
2 Slices Bacon
Instructions
Peel the Rutabaga and cut into cubes
Place in a pan and cover with water
Boil Rutabagas and reduce to simmer
While Rutabagas are cooking, fry up two slices of bacon
Rutabagas are done when you fork them and they slide off the fork
Place Rutabagas into a food processor and mix
Add cheese, sour cream and butter and process more
Fold in crumbled bacon with a spatula