So if you read the blog often you've probably figured out that I have just about every kitchen gadget known to man.  However, I never had a mandoline slicer, until now! To break it in I wanted to try a bunch of different Zucchini recipes.  The first idea I had was to make thin slices of Zucchini and form them into wraps.  The result was awesome!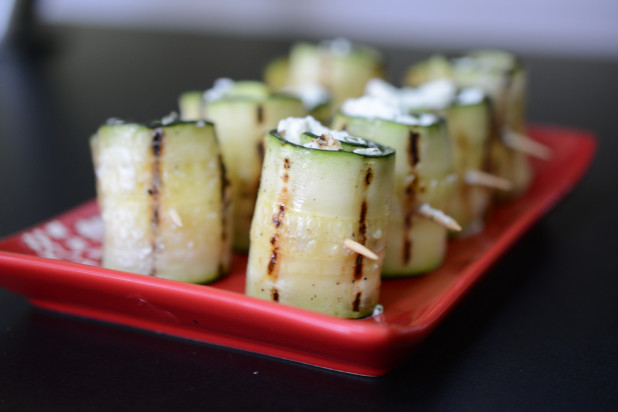 Here's the finished result!  They came out like little sushi rolls.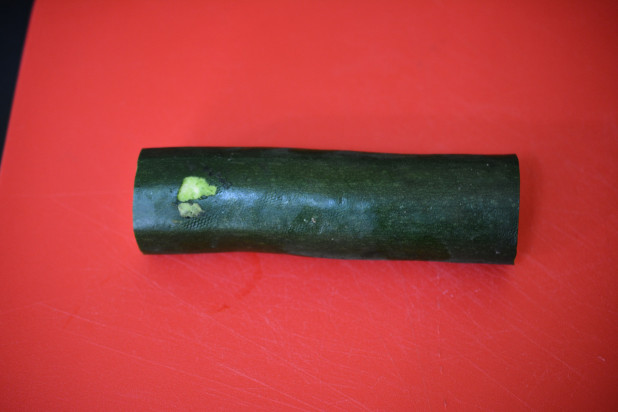 Start by washing a large Zucchini and slicing off the ends.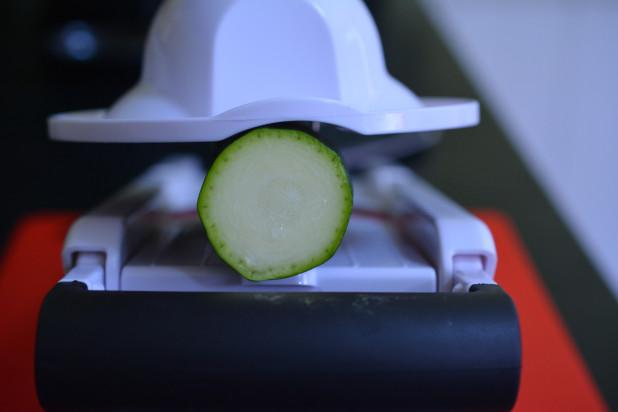 Then align it as shown on your mandoline slicer. I ended up throwing the first and last slice away because they weren't as uniform and had a lot of skin on them.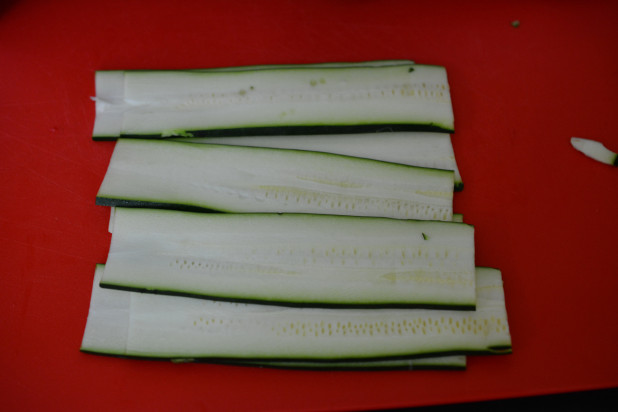 After the slicing you should end up with a series of uniform, 1/8″ Zucchini slices as shown.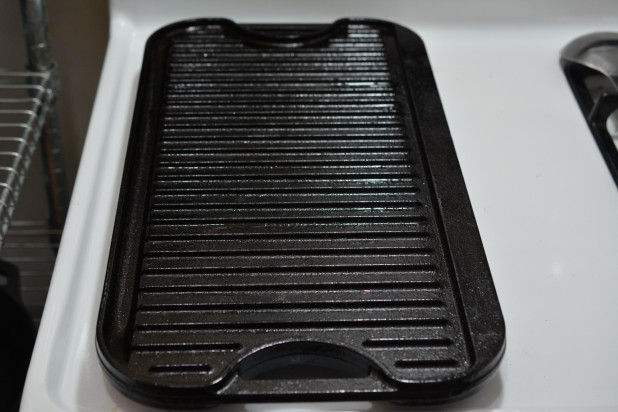 For this recipe, I really wanted to get the grill lines so I used my cast iron griddle set to high heat.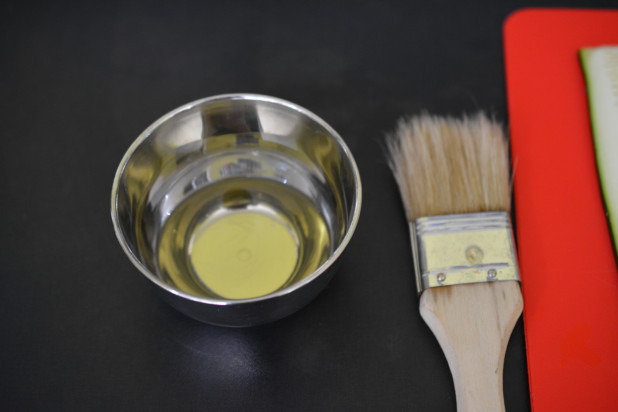 To prep the Zucchini slices, I used a small container with olive oil and a brush.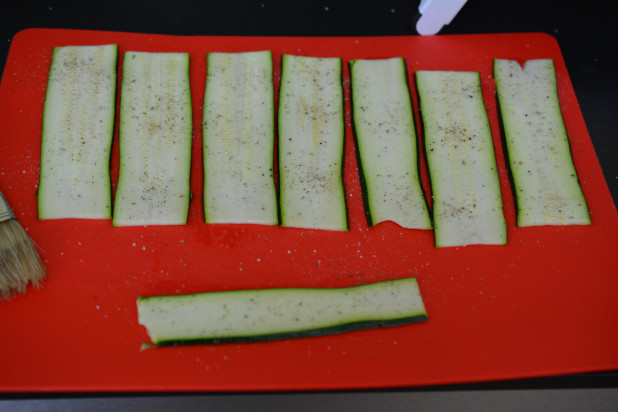 I then brushed both sides of the Zucchini with oil and coated them lightly with salt and pepper.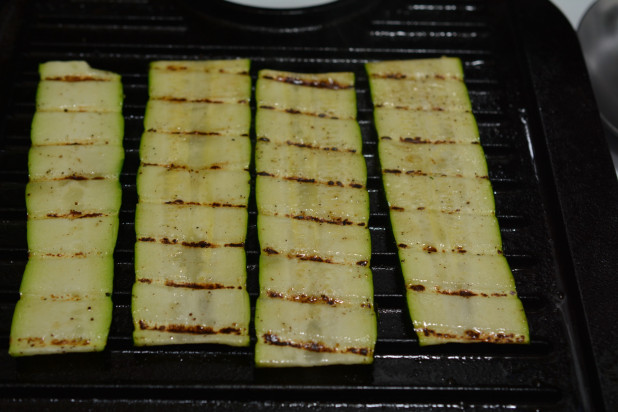 Mmmm, grilling Zucchini!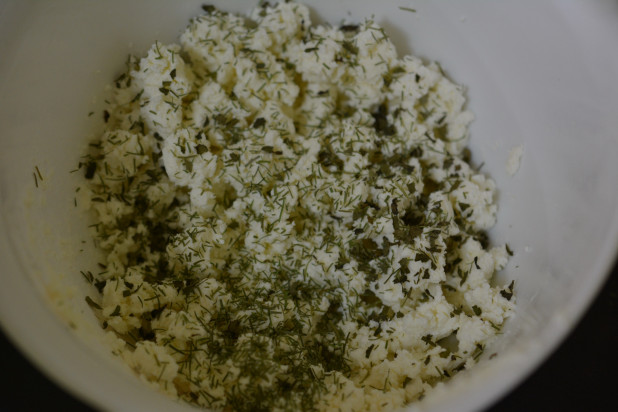 While the Zucchini was cooking, I prepped the filling.  I used a combination of goat cheese, dill and mint.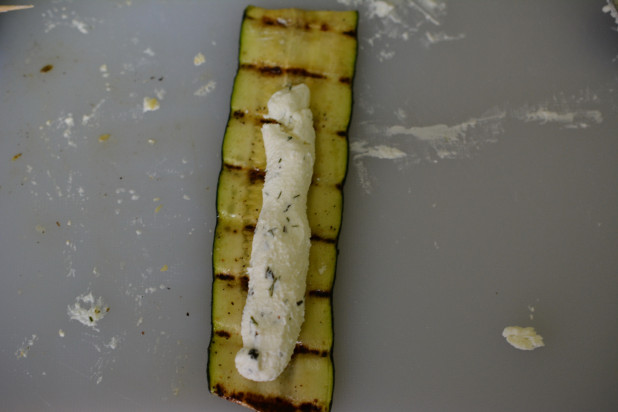 For each slice, I took 1/6th of the mixture and formed a roll in my hands. Basically I rolled a ball until it became long enough to fill most of the slice.  I originally tried to just spread the goat cheese but this resulted in broken up Zucchini slices …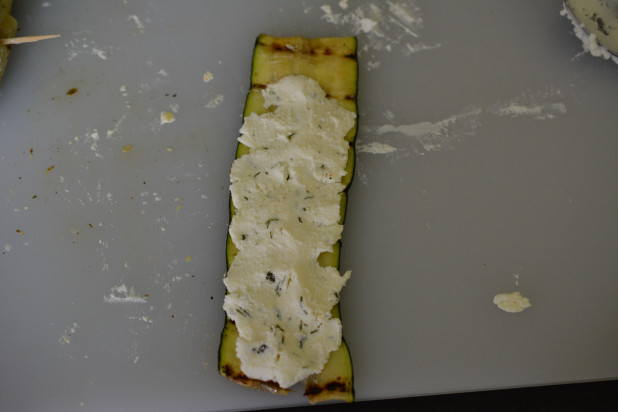 After the roll is spread out, I just pushed it down and spread it as shown above.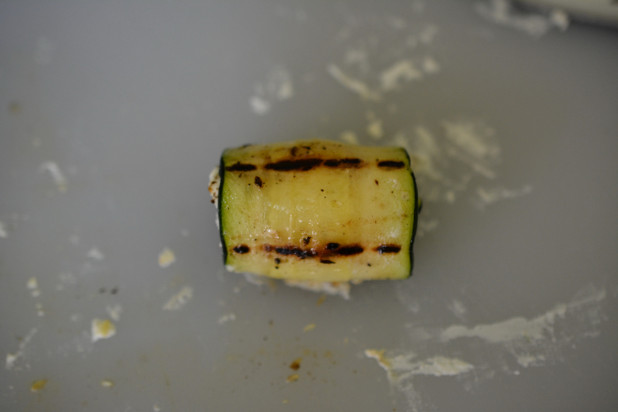 Then I simply rolled each one up!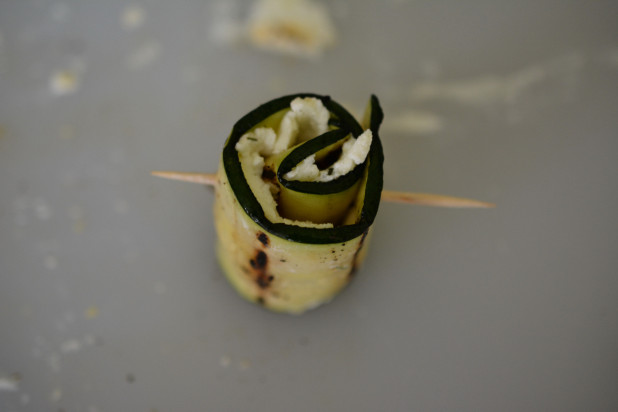 After rolling I hit it with a toothpick to keep it all together.

Zucchini and Goat Cheese Wraps
Nutrition Information
Serving size:

1 roll

Calories:

186
Fat:

14

Carbohydrates:

3

Fiber:

1

Protein:

13
Prep time:
Cook time:
Total time: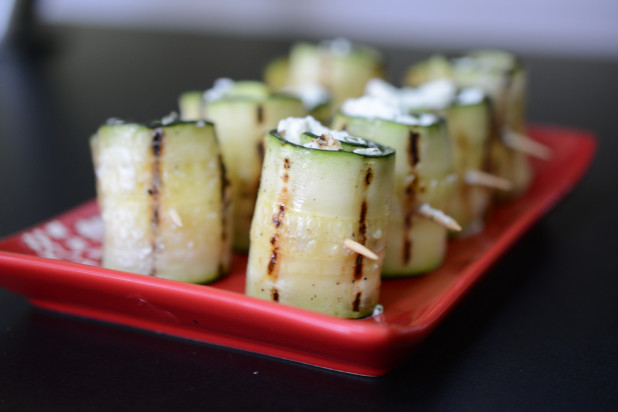 Ingredients
1 Zucchini
6 Oz Soft Goat Cheese
1 tsp dried mint
1 tsp dried dill
Salt and Pepper
Oil
Instructions
Start by washing the zucchini and cutting the ends off
Using a mandoline, slice the zucchini into ⅛" slices
Brush the zucchini slices with oil and spice with salt and pepper
Grill the zucchini for 5 minutes, 2.5 per side, until they brown
Combine the goat cheese, dill and mint.
Divide the goat cheese mixture into 6
Its easiest to roll the goat cheese into a cylinder between your fingers and then spread it on the zucchini
Roll the Zucchini up and put a toothpick through it