I'm always looking for new ideas for casseroles that last the week. I call these 5-day dishes that can be made on Sunday, stored and reheated each day for lunch. I find that this is the easiest way to maintain keto. You only choose to do keto once a week when you cook and it takes a lot less time during the busy week. This week's inspiration comes from Cauliflower.  Its a vegetable that I didn't eat much of before keto but I've really become attached to.  Its simple to get and takes flavoring well.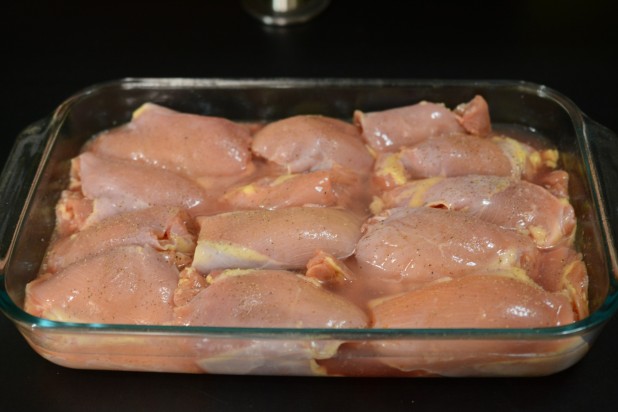 The first step is most of these casseroles is to prepare the main meat.  I've started a new practice of cooking the meat THEN chopping it.  In the past, I've often chopped the raw chicken thighs then cooked them in a pan.  It turns out it is significantly less prep time to cook then chop as opposed to chopping then cooking.  The negative is it takes more physical time to cook the chicken in the oven but the tradeoff is less time sitting there and chopping.  Anyway, so load up your chicken thighs in a casserole dish, cover with salt and pepper, and cook for 60 minutes at 350 degrees.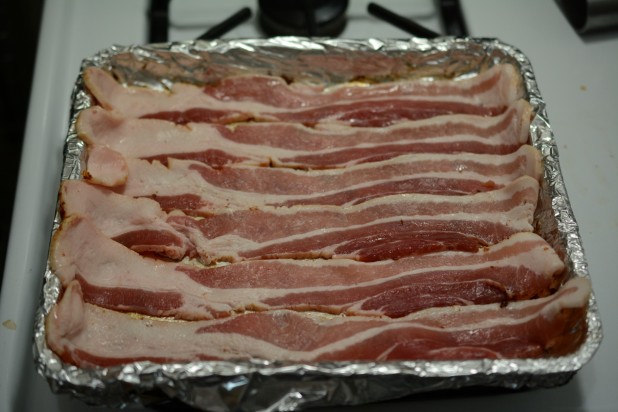 In the same spirit, I also cook the bacon in my little convection oven as a time saver.  So this and the chicken will be cooking as I prep the rest of the meal.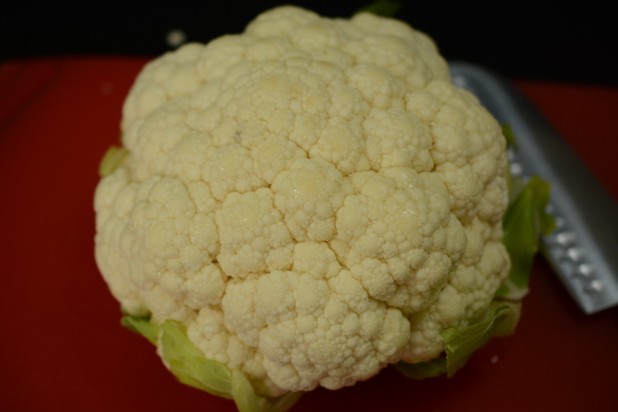 Now on to the cauliflower.  For this recipe, wash the cauliflower, then flip it over and cut out the leaves.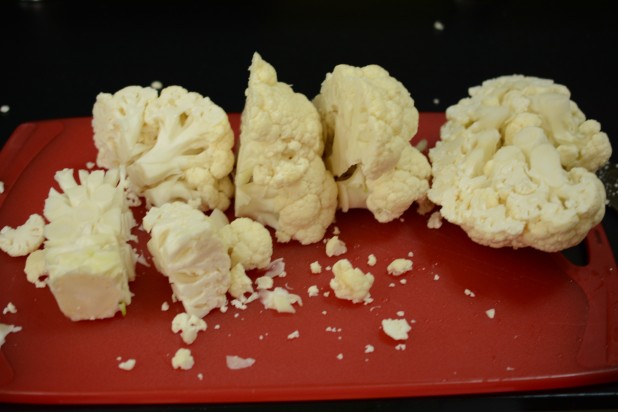 Then chop the cauliflower into sections, discarding the main stem. Continue  to chop them up into bite sized florets and then cook them in the microwave.  I should note that you could substitute fresh cauliflower for 3 10 Oz bags of frozen.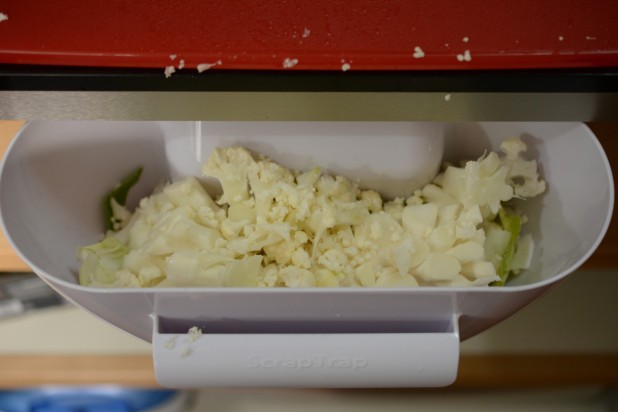 My wife bought me this neat little contraption called a "Scrap Trap" that sits on top of a drawer. In our kitchen we don't have a garbage disposal and I prep all the food on the island on the other side of the kitchen from the trash can.  I was constantly taking scraps and moving them from the cutting board to the trash. Not only was it taking up time but it stunk as I was constantly opening the trash bag.  I didn't think I was going to use the thing but its one of my favorite additions as I can use it as a mini trash bag during meal prep and just empty it at the end.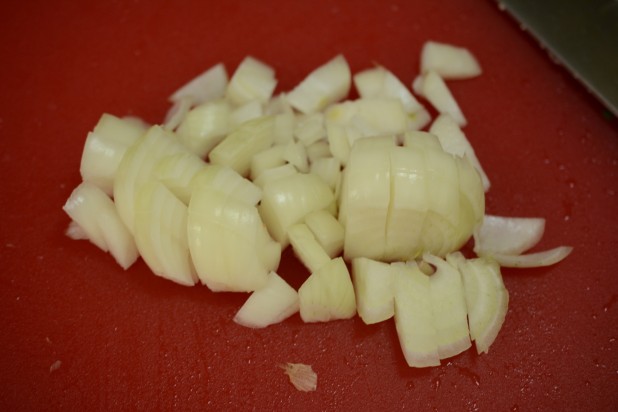 Dice the onions.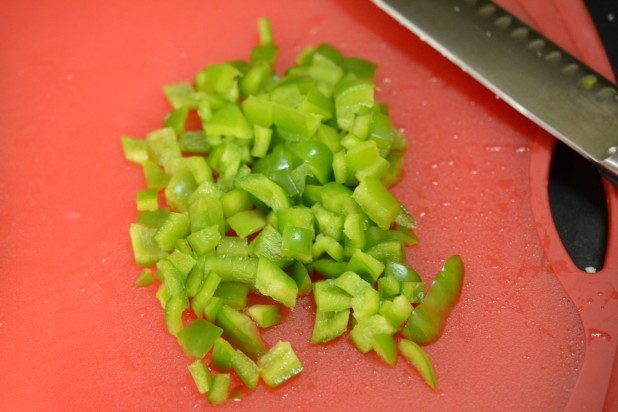 And the Peppers.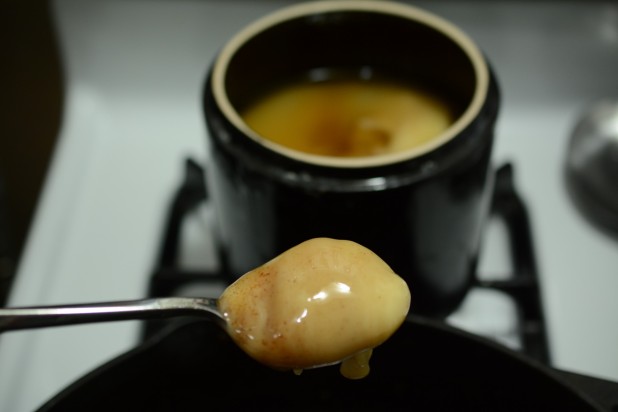 Grab a dollop of Bacon Grease.  You do have a bacon grease holder, right?
And melt it in a cast iron skillet.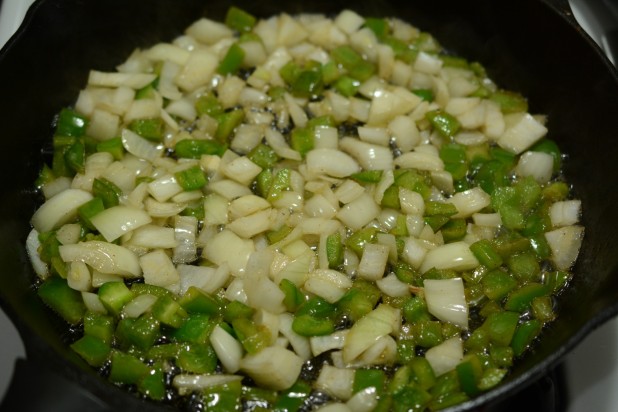 Cook the peppers and onions until lightly browned and tender.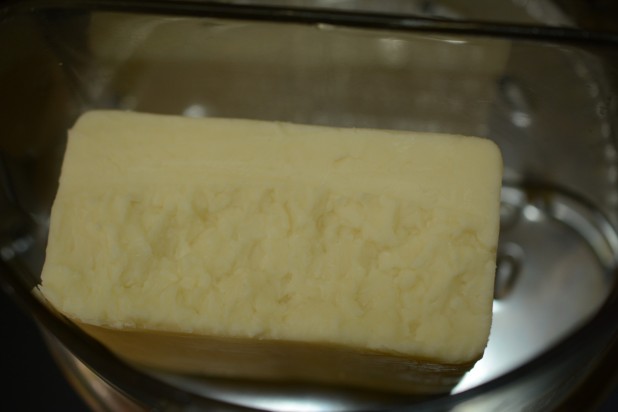 Next, we need to shred the cheese using a food processor.  You can buy it preshredded at the store but they often add potato starch to make sure the cheese doesn't bind and this adds carbs.  I prefer less processed anyway.  I think you get a better quality cheese when you buy it in blocks.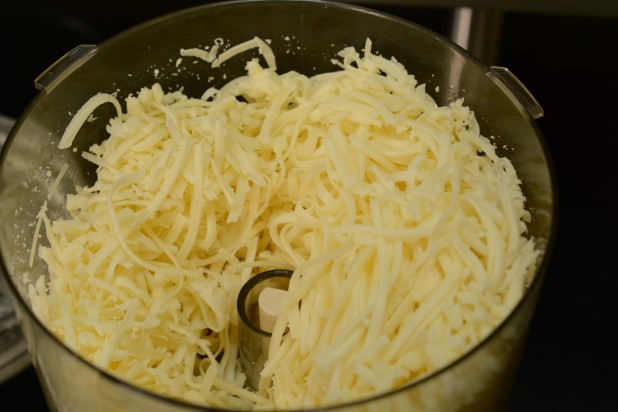 Here's the shredded Monterey Jack.
Do the same for the cheddar.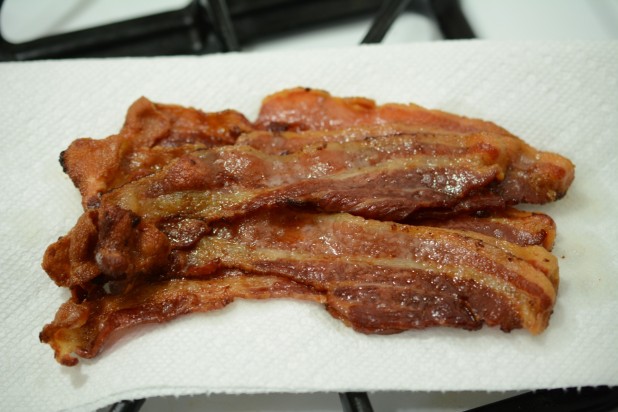 Mmmm, our bacon is done!  Don't eat it before you add it to the recipe!!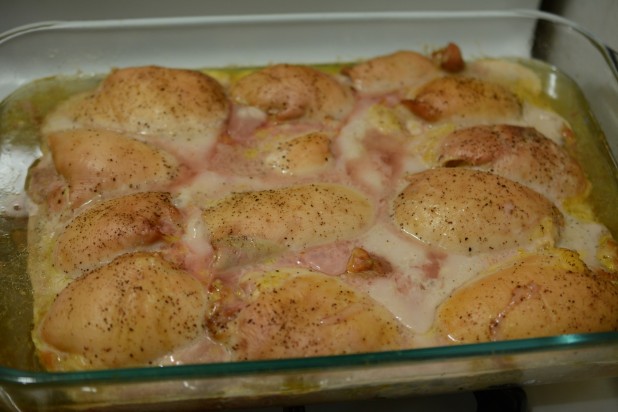 Also, here's the finished chicken thighs.  They are now super easy to cube.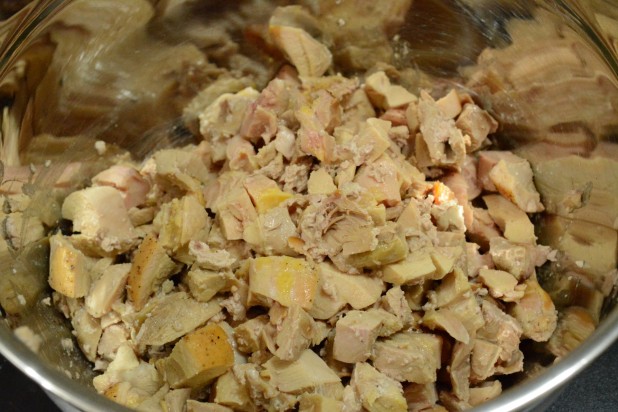 Cube the chicken and add it to a large mixing bowl.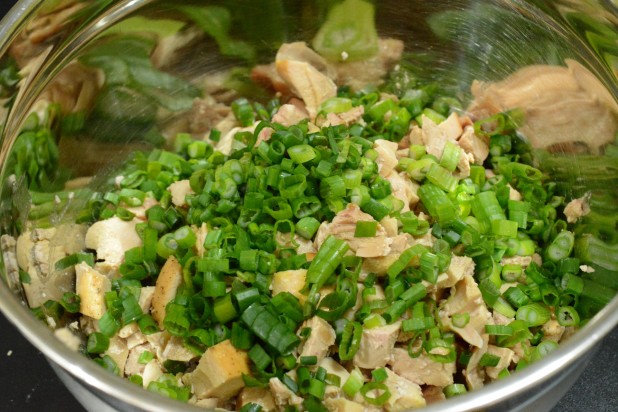 Throw in the green onions.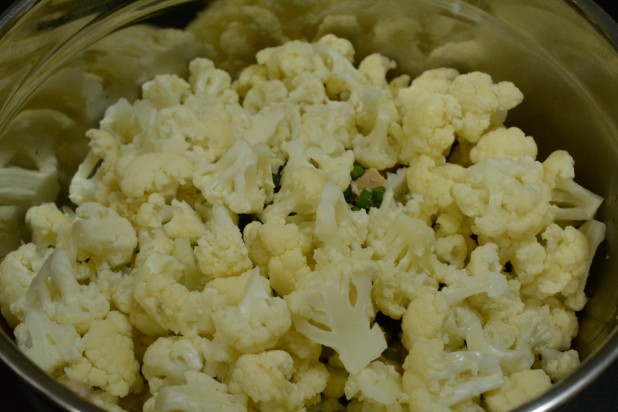 And the cauliflower.
And the Onions and Peppers.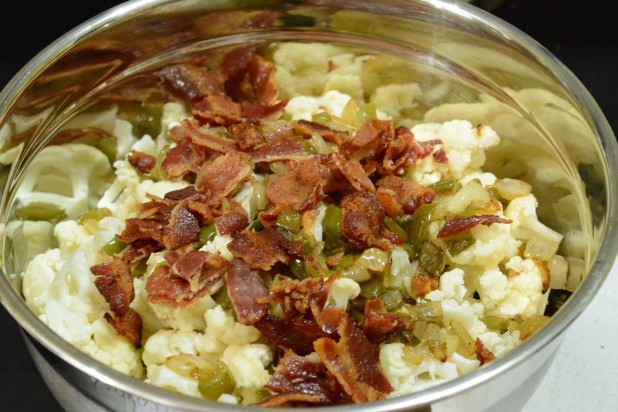 As well as the bacon.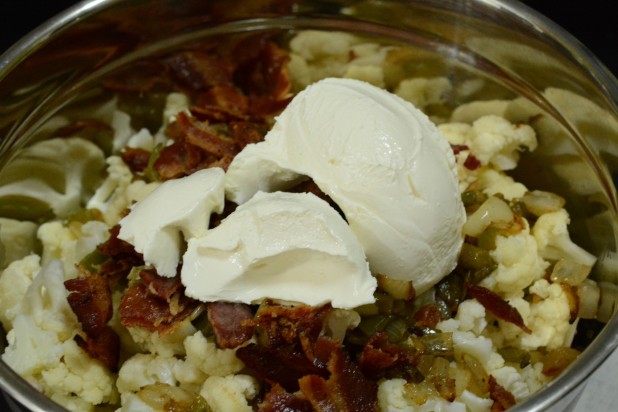 Maybe less pictures next time, also add the Cream Cheese and Heavy Cream.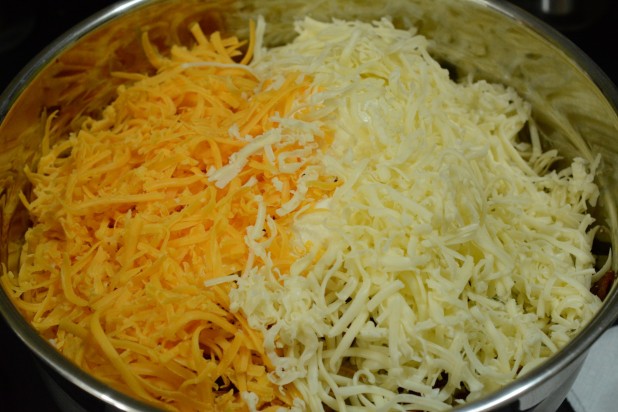 And 12 Oz of the cheese.  Reserve the last 4.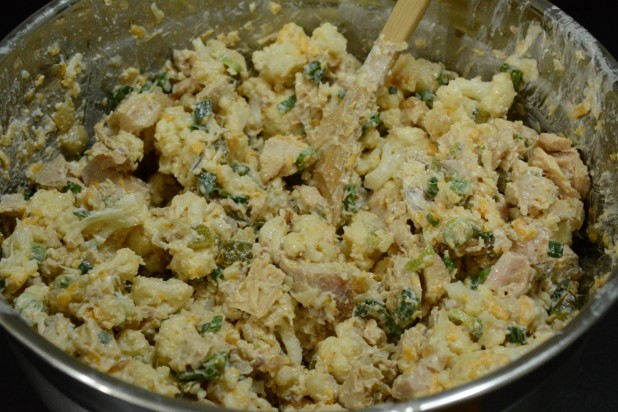 Mix it up!  If it doesn't look like gruel, its not a casserole!!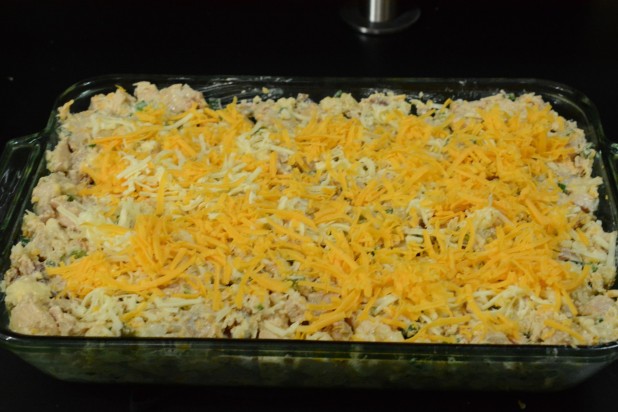 Now throw it all in really large casserole dish.  This one was exceedingly full, I wasn't even sure it would fit!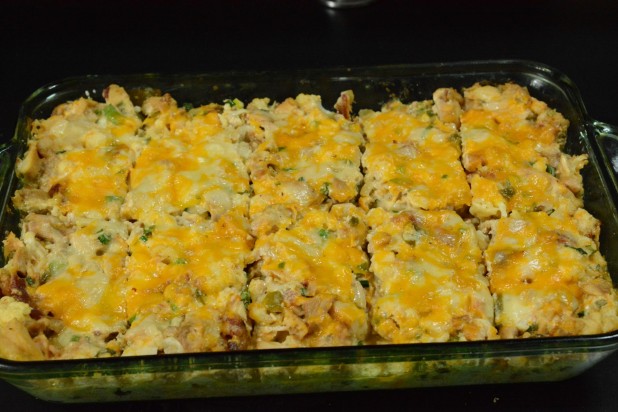 Bake for 25 minutes covered at 350 degrees, then 5 minutes uncovered.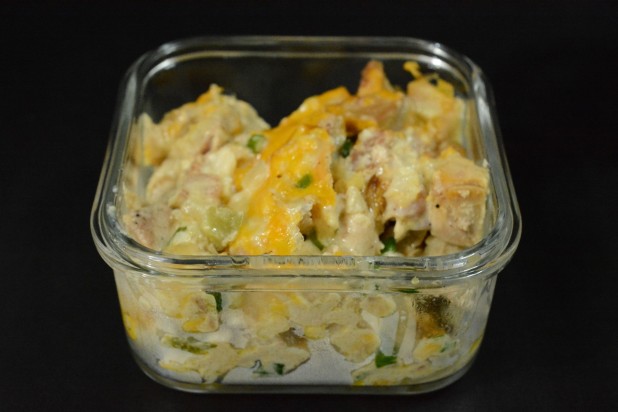 Here's the finished product, ready to be sealed away for lunch!

Cauliflower Casserole
Nutrition Information
Serving size:

1/10th

Calories:

516
Fat:

34

Carbohydrates:

9

Fiber:

3

Protein:

44
Prep time:
Cook time:
Total time: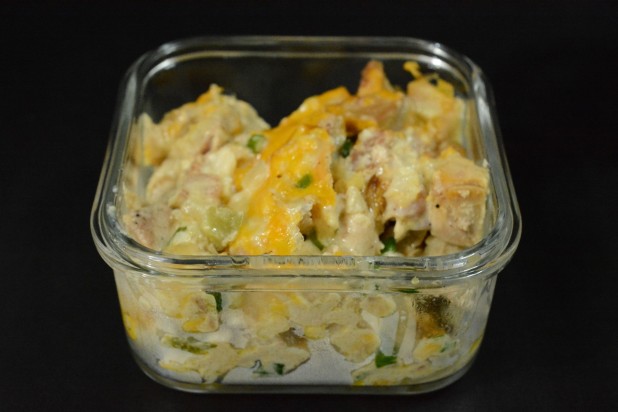 Ingredients
12 Chicken Thighs (4 Oz. Each)
1 Head Cauliflower (30 Oz. chopped)
8 Oz Cheddar Cheese, Shredded
8 Oz Monterey Jack Cheese, Shredded
1 Bunch Green Onions (6 Green Onions, 75g total)
6 Thick Cut Bacon Slices
1 Medium Onion (162g)
1 Medium Green Pepper (147g)
1 Tablespoon Minced Garlic
8 Oz Cream Cheese
4 Oz Heavy Cream
Salt and Pepper to taste
Instructions
Start by adding the chicken thighs to a casserole dish, adding salt and pepper, adding some water to about mid thigh and cooking at 350 degrees for 60 minutes
OR chopping the chicken up and cooking it in a pan on the stovetop
Cook the bacon in the oven for 15-20 minutes at 450 degrees (if using separate convection oven, otherwise cook it next to the chicken and watch it, probably 20-25 minutes)
Chop up a head of cauliflower into florets
Cook the cauliflower in the microwave on the vegetable setting
Chop up the onions and peppers and pan fry
If oven baking the chicken, chop up cooked chicken into a large bowl
Add all of the other ingredients, reserving 2 Oz Cheddar and 2 Oz of Monterey Jack
Add the mixture into a large, greased casserole dish and top with the remaining cheese
Cover with foil and cook for 25 minutes at 350 degrees, then 5 minutes without the foil
Black and Decker Convection Oven
My convection oven is my best friend. Whenever I am making a dinner for just one or two I always use this over my full sized oven. Meals like Lazy Keto Chicken were designed for this thing, the hot air cooks stuff super fast and uses less energy.
Cuisinart 9-Cup Food Processor
I first got this food processor as a wedding gift and I wasn't sure how I felt about it. Well, let me tell you, its been a godsend on keto! I shred cheese, slice brussels sprouts, and rice cauliflower like a boss!

Scrap Trap
This handy little invention attaches to a drawer in your kitchen and allows you to scrap the crumbs and extras off of your cutting board. Its a huge time saver to have a little trash bin right by your side while cooking. Dishwasher safe!
RSVP Stoneware Grease Keeper
Never throw away bacon fat. Ever! This thing is the coolest invention. It's a little ceramic container that has a built-in filter that stores your bacon grease. You simply pour the grease into it when you're done frying some bacon and its ready to spoon back into the pan next time you're frying some veggies!
Tovolo 7.5 Quart Mixing Bowl
Most of my large 5day recipes and casseroles are all mixed together before being baked. You really need a giant bowl to hold all the ingredients and this one fits the bill!

GlassLock 17 Oz. Square Food Container
These are my new favorite food storage container! They are good for the refrigerator, microwave and freezer. Additionally, the gasket makes it so they never leak and the lids are super secure.