The Super Bowl is tomorrow!  If you don't have your Super Bowl keto meal plan in order, check out my Super Bowl section for a full list of ideas. There's no reason to cheat on Super Bowl Sunday with keto since so many snacks are perfectly keto friendly! Today I'm making a twist on one of my favorite appetizers, the rollup. Basically you just get slices of ham, add cream cheese and throw anything else you want inside.  Its quick, easy, and can be made ahead of time.  Non ketoers will like them too in case you're watching the game at a friends house!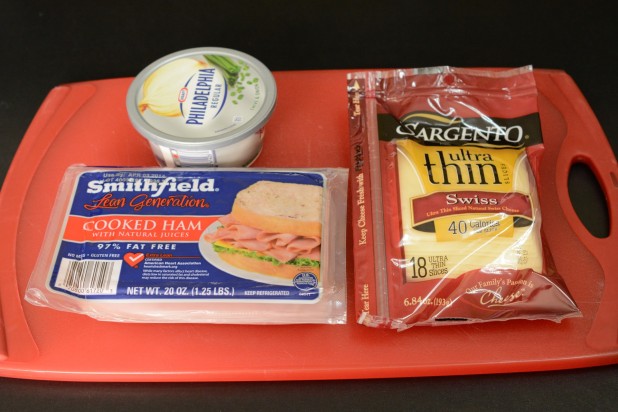 For today's rollups, I'm using some ham slices with Chive and Onion cream cheese as well as some thin sliced swiss.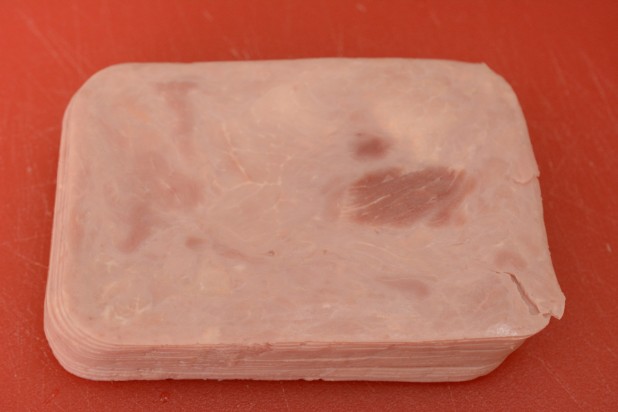 Start by laying out the ham slices on a cutting board.  Make sure to take out the whole package as it makes it a lot easier to spread the cream cheese.  Additionally, you want to make sure the ham is dry, so pat it down with a paper towel.  Otherwise the cream cheese won't stick.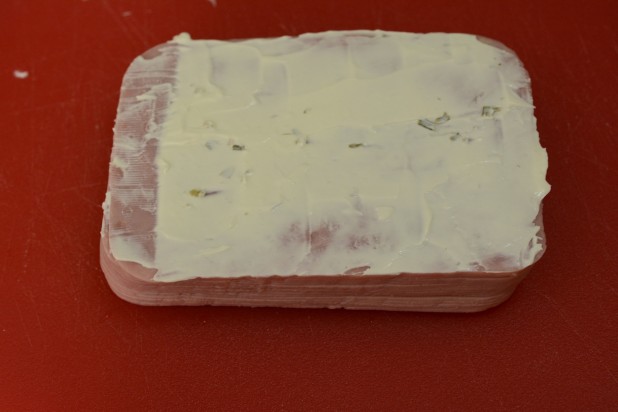 Spread the cream cheese over the entire ham slice and then use the knife to scrap away about 1/2″ on the left side. I used about 10g of cream cheese on each slice.  This just about finished the 8 Oz. container.  I just zeroed the scale each time and grabbed 10 grams.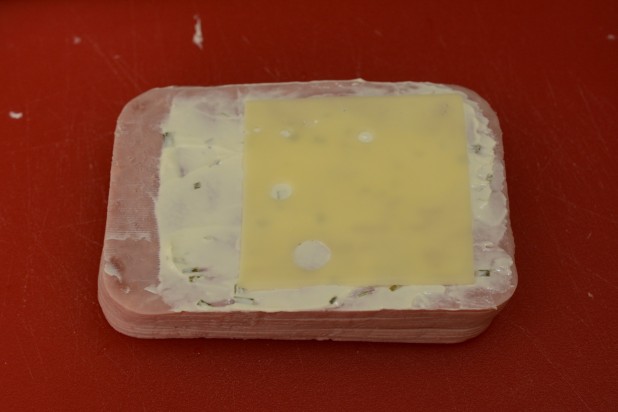 Then lay the cheese on top of the cream cheese about 1/2″ from the right side.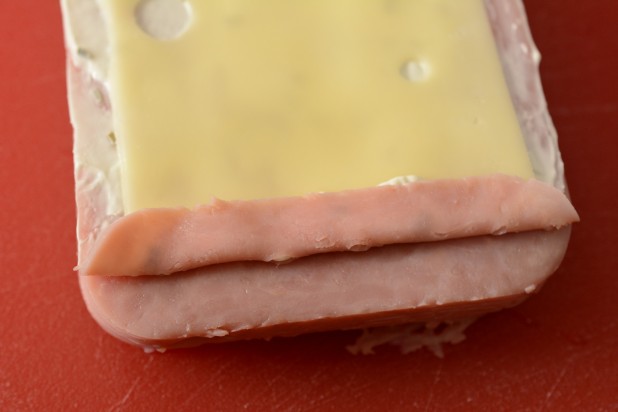 Start by folding the end of the ham over the end of the cheese.  The cream cheese will act like a glue and this will form the core.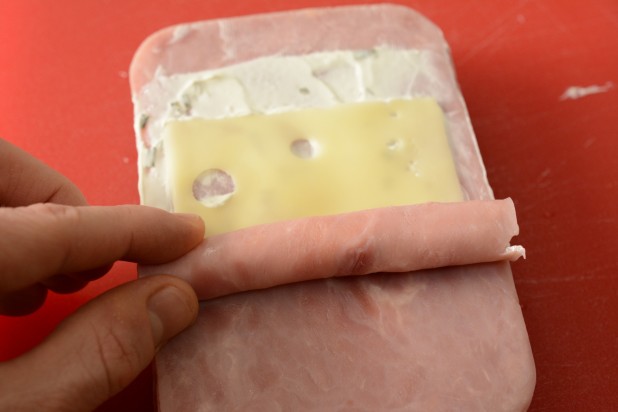 Then fold the ham / cheese combo over and start rolling.  As you roll the cheese and cream cheese will start to squish out.  This is ok, that's why we started with the cheese so far right and no cream cheese at the end.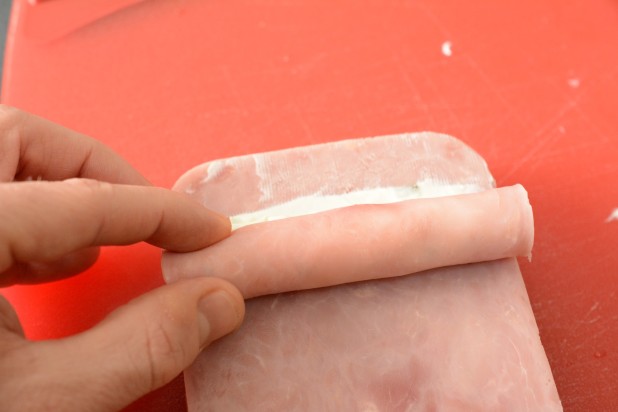 At this point you've almost finished.  There will be some cream cheese at the end, keep rolling and the extra cream cheese at the end should keep the roll together.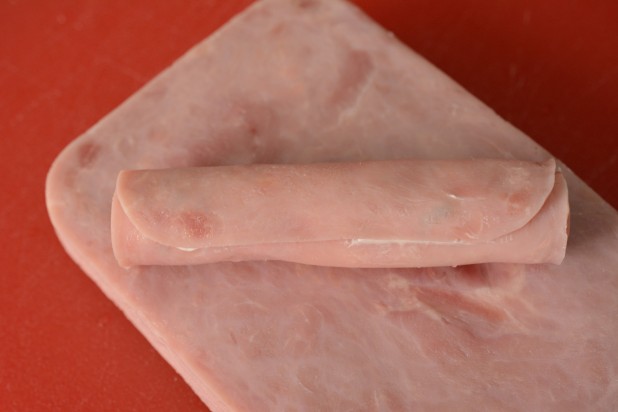 Here's a finished roll!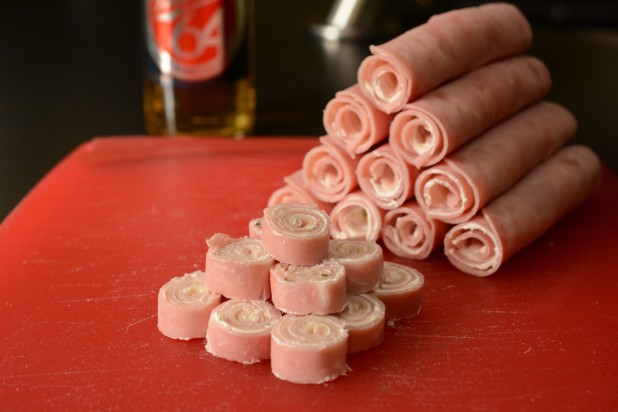 Slice them up into bite sized pieces or keep them in roll form for a hand held appetizer!  What did you make to eat during the Super Bowl?

Cheesy Chive Rollups
Nutrition Information
Serving size:

2 Rolls

Calories:

212
Fat:

13

Carbohydrates:

4

Fiber:

0

Protein:

18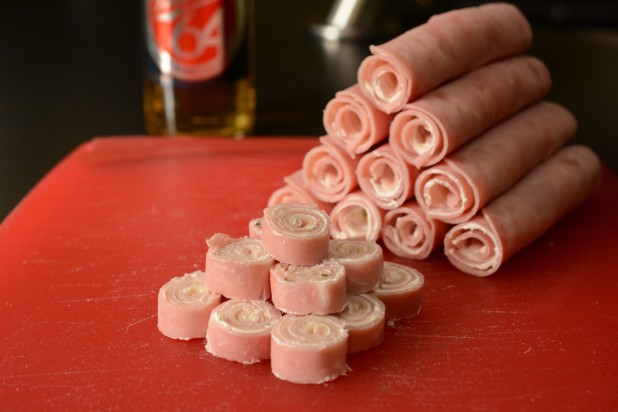 Ingredients
18 Slices of Ham
1 Package Chive and Onion Cream Cheese (8 Oz)
18 Slices of Thin Swiss Cheese
Instructions
Take out the whole block of sliced ham and set it on a cutting board
Using a paper towel, dry off the top slice
Thinly spread the cream cheese over the ham slices. Use 10g or 2 tsp per slice
Scrape the last ½ inch of the ham clean
Add a slice of cheese ½ inch into the non scraped side
Starting from the cheese side, fold the end of the ham over the end of the cheese
Then tightly roll the ham and cheese up
The cheese and cream cheese will push forward / out as you go but that's why we reserved a small section
Optionally, slice the rolls into small rolls and serve!

Non-slip Cutting Board
Let's face it, keto involves a lot of prep. You've got to slice all those vegetables, cut up all that meat and not just any old board will do. Make sure to grab yourself a nice non-slip one for the kitchen!
Victorinox Fibrox 8″ Chef's Knife
You really only need one good knife. This one is it. America's Test Kitchen rated it the number one budget knife!
OXO Kitchen Scale
To really count calories on keto a good scale is essential. This one is the best. Period. It measures down to 0.1g, can handle up to 11 lbs and has a pull out display so you can put large items on it! Check out my MFP guide for more info on tracking calories.