With the Super Bowl coming up on Sunday I wanted to share with you one of my favorite Deep fried foods, Jalapeno Poppers! On the very first fry-day I made these wonderful little morsels but I never had time to write an article on them. This is a remake of my classic Jalapeno Poppers but significantly less prep and work. The basic ingredients are always cream cheese, bacon and Jalapenos but it can be a lot of work to remove the stems and seeds, stuff the poppers and bake them.  The fried version is much simpler and creates an awesome bite sized snack!  If you're prepping for your keto super bowl party, make sure to check out my entire section on Super Bowl Dishes for more inspiration!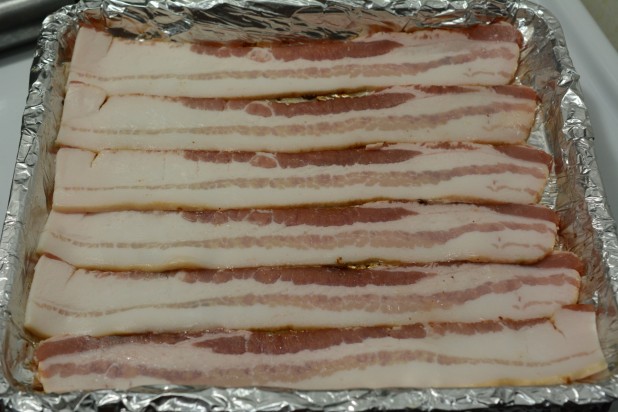 As usual, this dish starts with the bacon.  I almost always cook my bacon these days in my convection oven because the hot air cooks bacon significantly faster. Also, I don't have to sit there and tend to the bacon like I might have to if I pan fry.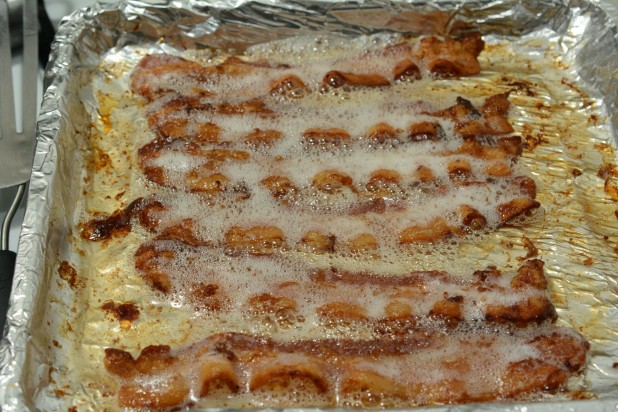 Mmm, bacon!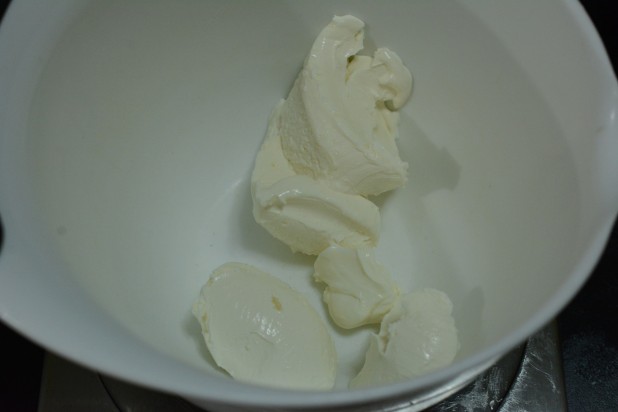 This recipe starts with a base of cream cheese.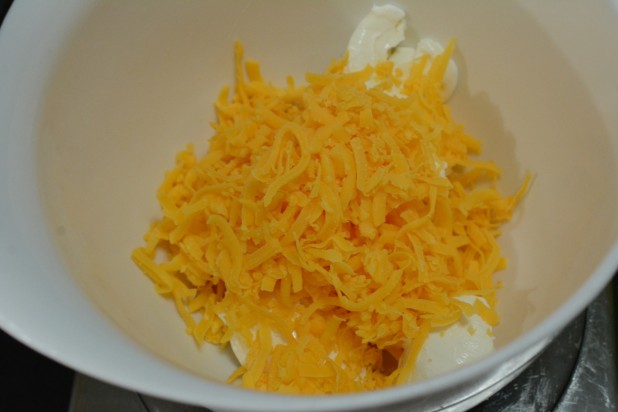 Then add some cheddar cheese.
Next, chop up some Jalapeno slices.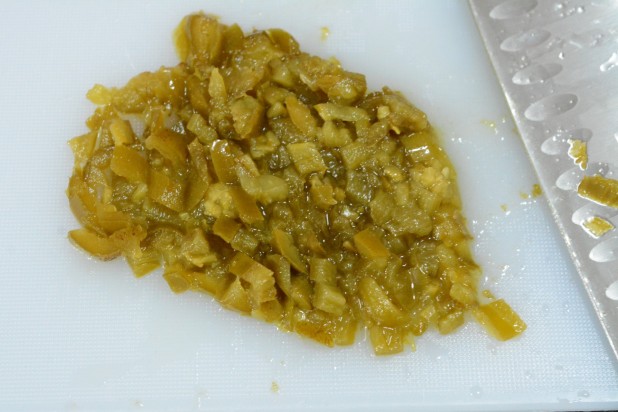 Try not to get any of the juices on your hands or eyes as it can sting!  Cut them into little pieces as shown above.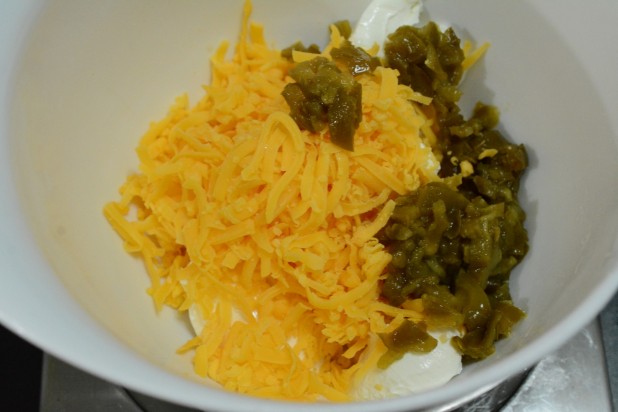 Add them to the mix.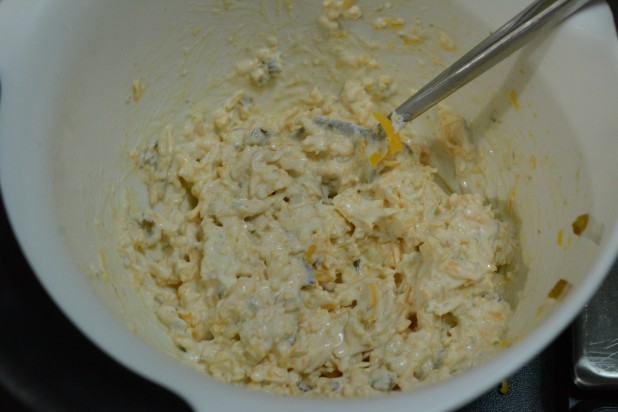 Combine all of the batter ingredients and mix it together.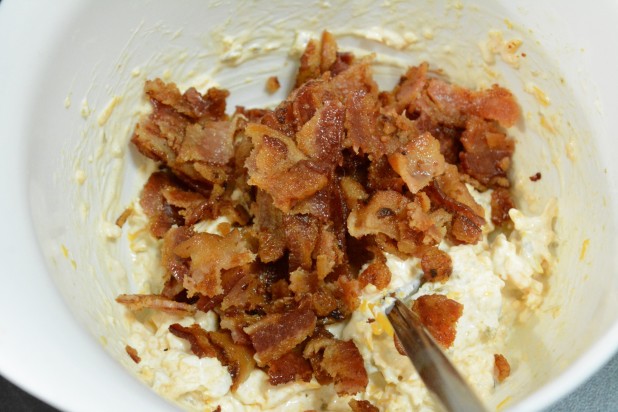 Then add the bacon.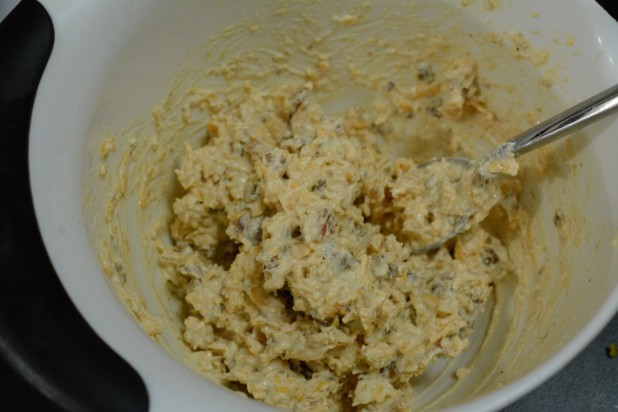 The final mixture should like like the above.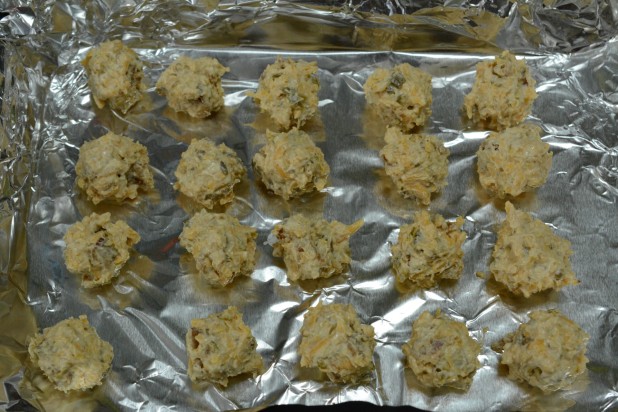 Form 0.5 Oz. balls and place them on a foil lined sheet.  Once the balls are formed, put them in the refrigerator for 15-60 minutes.  The filling gets soft when you mix it together and it would be mush if you tried to batter these balls at this point.  You want them to harden up a bit before you batter then.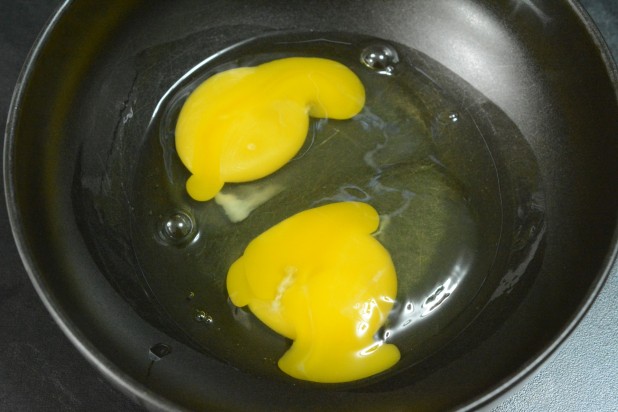 Speaking of batter, the base is two eggs.  Whip them up.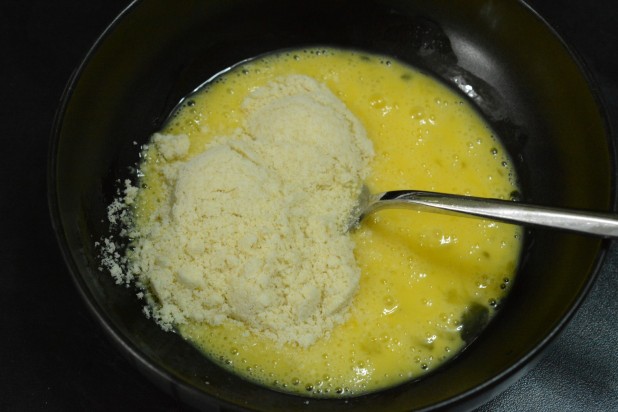 Then add the Almond Flour.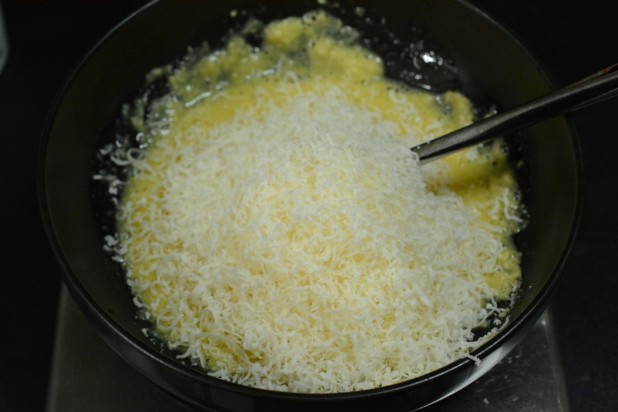 Then the Parmesan Cheese and water.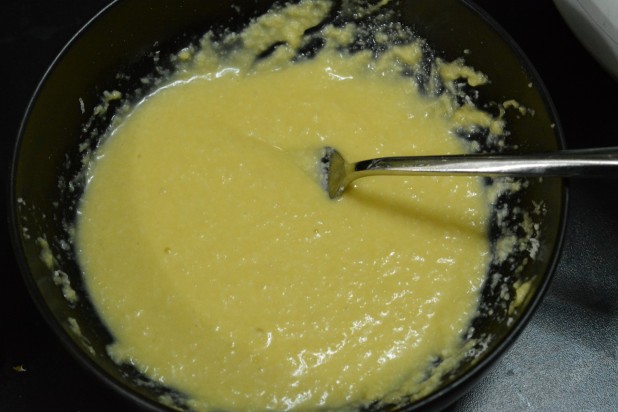 Finally, you'll have your batter.  This could be used for more than just Jalapeno Poppers, you could coat anything with this stuff!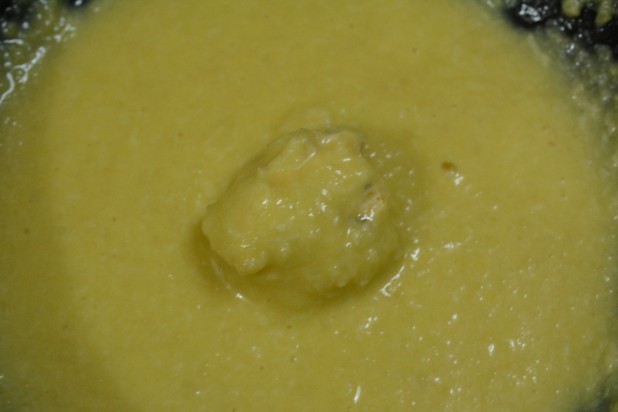 Drop the balls into the batter and thoroughly coat them.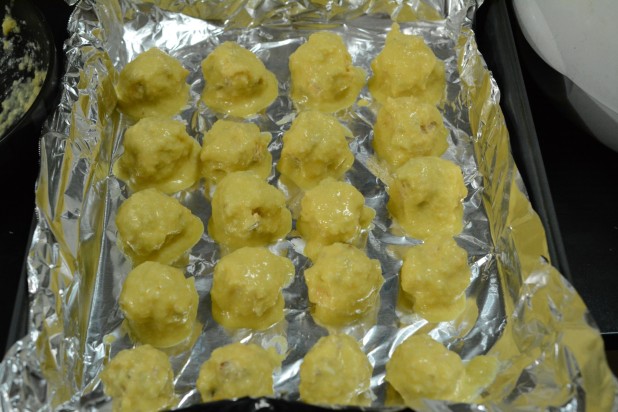 For this recipe, I put them back on the tray and refrigerated them again.  You could drop them right into the fryer but I found that I had better success with them staying together if the batter hardened a little bit onto the balls.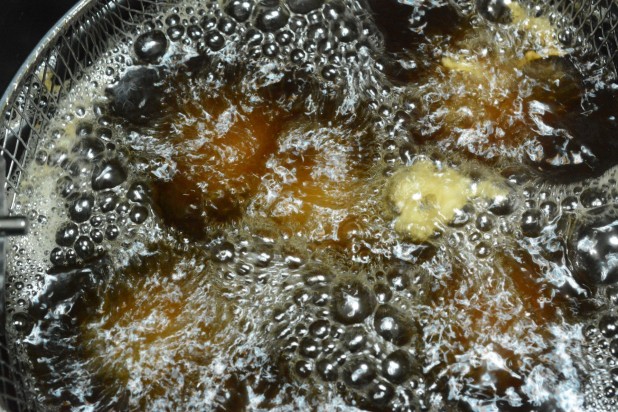 Next, drop them into some piping hot Leaf Lard in your deep fryer. One thing to note, they have a tendency when dropped into the oil to sink to the bottom and then stick to the strainer.  You want to make sure to unstick them relatively early in the cooking process with something like a metal fish spatula so that they don't become a cheesy mess on the bottom of the fryer.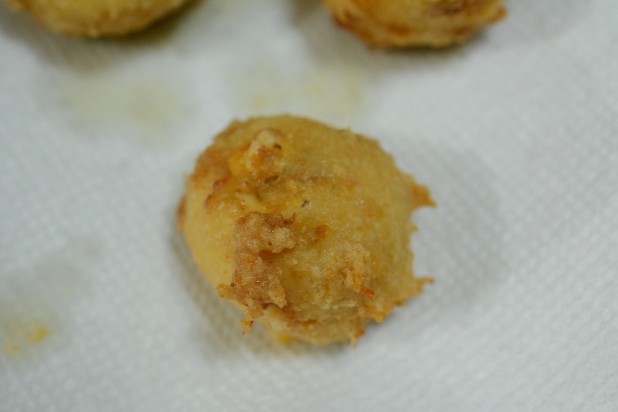 Here's a closeup of the completed Deep Fried Jalapeno Poppers!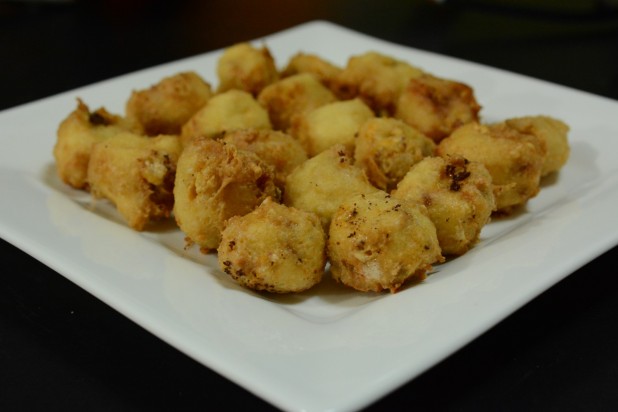 Mmmm!  They were super delicious and the perfect amount of spicyness.

Fry-day: Jalapeno Poppers
Nutrition Information
Serving size:

5 Balls

Calories:

387
Fat:

33

Carbohydrates:

4

Fiber:

1

Protein:

22
Prep time:
Cook time:
Total time: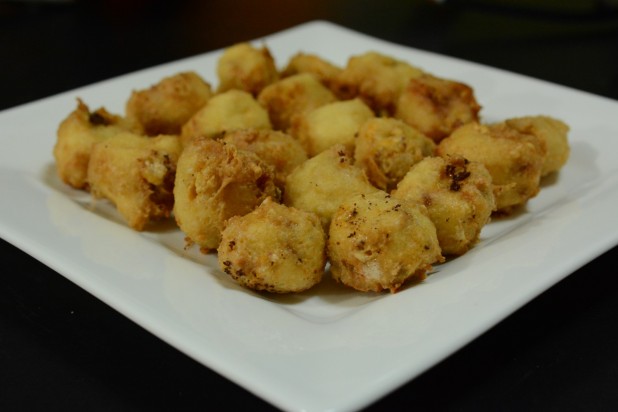 Ingredients
Inside:
6 Thick Cut Bacon Slices
4 Oz. Cream Cheese
4 Oz. Cheddar Cheese, Shredded
1.5 Oz. Jalapeno Slices
Batter:
2 Eggs
4 Tablespoons Almond Flour
2 Tablespoons Parmesan Cheese
1 Tablespoon Water
Instructions
Cook the bacon and crumble
Chop up the Jalapeno slices
Combine the bacon, cream cheese, cheddar cheese, and Jalapeno slices
Form into 20 balls and refrigerate the balls
While the balls are cooling, make the batter by whisking the eggs then adding the Almond flour, parmesan and cheese
Coat the balls and refrigerate again
Fry the balls until golden brown
Serve warm!
Black and Decker Convection Oven
My convection oven is my best friend. Whenever I am making a dinner for just one or two I always use this over my full sized oven. Meals like Lazy Keto Chicken were designed for this thing, the hot air cooks stuff super fast and uses less energy.
Bob's Red Mill Almond Flour
Almond flour is the go to flour on keto. Its the base for stuff like almond buns and I use it as a filler anytime I want a flour substitute. I'd check your local grocery store first, but if you can't find it locally, buy it online. By me, it varies between $8-$12 per lb.
DeLonghi Deep Fryer
If you follow the blog, you know that I've gotten a little obsessed lately with my Deep Fryer to the point where I post a weekly Fry-day article. I had one of these in college and it always made me feel guilty using it. I feel so liberated that there are all sorts of keto friendly fried foods like nuggets, wings and brussels sprouts!
OXO Fish Spatula
This is hands down, my favorite spatula. I don't even let it go in the dishwasher for fear I'll need to use it during the hour wash cycle. Its that amazing. The longevity and flexibility allows you to get under bacon weaves or complex egg structures with ease.
Cone Filters, 50 Pack
To keep your frying oil clean, you really need to filter it on a regular basis. Fryers will come with one or two filters in the kit but they run out fast. This 50 pack will keep you going for well over a year
Filter Stand
Use this stand in conjunction with standard cone filters to easily filter your oil. This system is in place of the filtering method that comes with your fryer.