For my birthday my sister got me a meat CSA from Stillman's farm.  I actually had no idea such a thing existed! This week's haul came with some Chicken Italian sausages.  I hadn't broken out the fryer recently so I had an idea for the sausage, why not wrap it in bacon and deep fry it as part of my fry-day series! This snack mimics many of the store bought appetizers where they wrap meat with bacon but homemade and cheaper!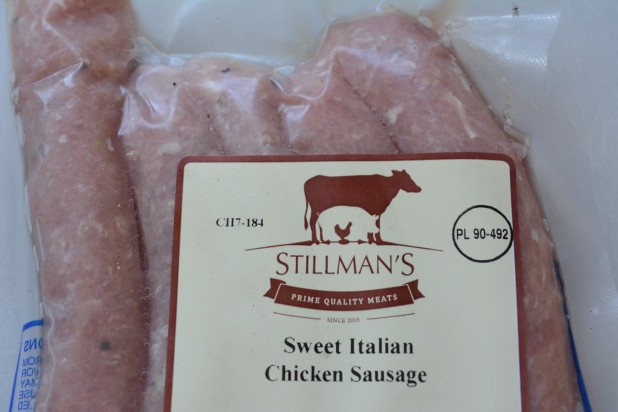 Here's the sausage that came as part of this week's haul.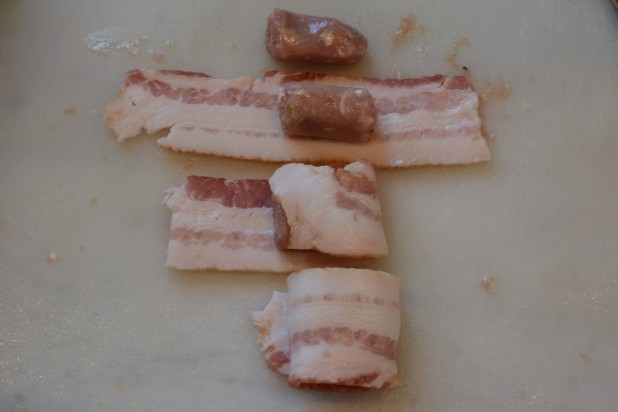 I started by cutting the sausage into four pieces and wrapped them as shown,  I used half a slice of bacon, placing the sausage so that the cut will be wrapped.  Then I wrapped one side of the bacon over and then the other.  Basically this makes it so it seals the cut side so it all doesn't flop out and the skewer goes through the skin part and keeps it together.  Sounds overly complicated but I wrapped it like 5 different ways before I arrived on this ideal version 🙂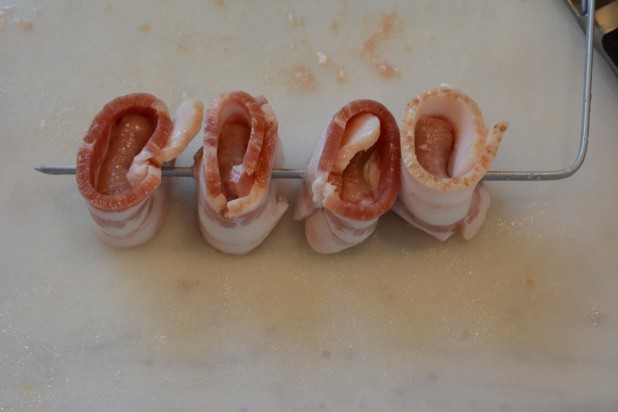 I then bent a metal skewer so that it would fit in the fryer, and slipped the sausages on.  Notice the orientation of the skewer, through the bacon and also through the skin part of the sausage.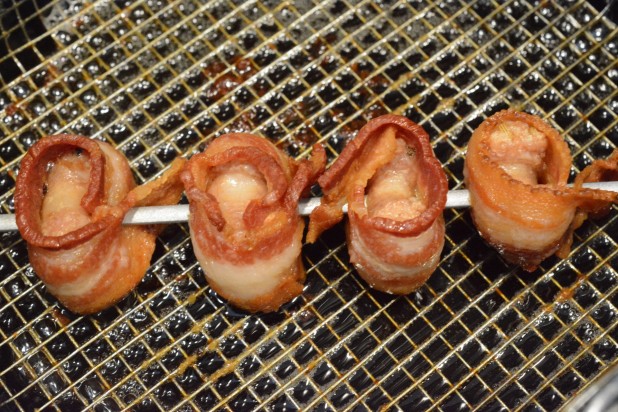 Mmmm! Deep fried sausage and bacon!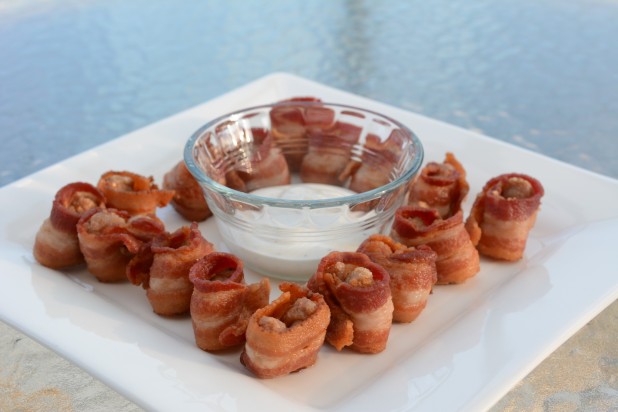 I served the bacon wrapped sausages with a side of ranch for dipping.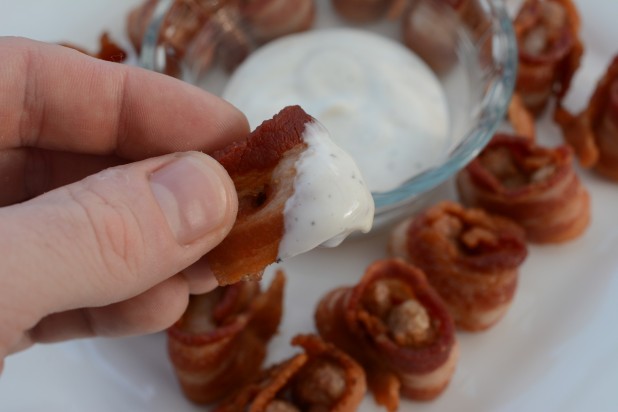 Here's the sausages getting ready for my mouth!  These were very good and mimic some of the store bought appetizers you can pick up for a fraction of the cost.

Fry-day: Bacon Wrapped Sausages
Nutrition Information
Serving size:

5 pieces

Calories:

273
Fat:

18g

Saturated fat:

5g

Unsaturated fat:

5g

Trans fat:

0g

Carbohydrates:

2g

Sodium:

1044mg

Fiber:

0g

Protein:

25g

Cholesterol:

103mg
Prep time:
Cook time:
Total time: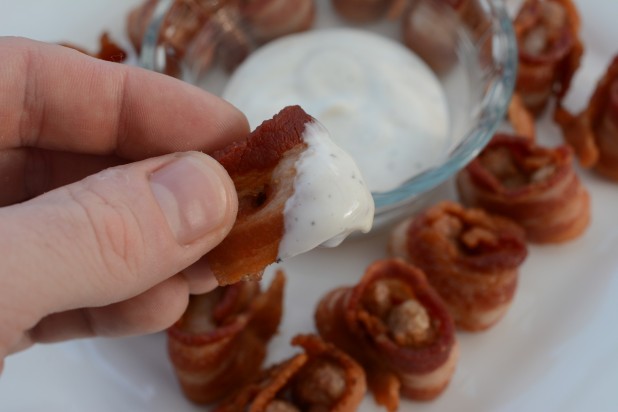 Ingredients
5 Italian Chicken Sausages
10 Slices Bacon
Instructions
Preheat deep fryer to 370
Cut each sausage into four pieces
Cut bacon in half
Wrap the bacon over the sausage, covering the cut end
Skewer the bacon and sausage
Fry for 3-4 minutes or until golden brown
DeLonghi Deep Fryer
If you follow the blog, you know that I've gotten a little obsessed lately with my Deep Fryer to the point where I post a weekly Fry-day article. I had one of these in college and it always made me feel guilty using it. I feel so liberated that there are all sorts of keto friendly fried foods like nuggets, wings and brussels sprouts!
Cone Filters, 50 Pack
To keep your frying oil clean, you really need to filter it on a regular basis. Fryers will come with one or two filters in the kit but they run out fast. This 50 pack will keep you going for well over a year
Metal Skewers
Metal skewers are a great addition to any BBQ set. They're perfect for skewering some shrimp or making some kabobs. They can even be used in a deep fryer to make a super appetizers!