If you couldn't tell, I'm completely and utterly obsessed with deep frying everything in site.  So much so, that I've created a mini-series called Fry-day! Last time I deep fried some sausage wrapped in bacon.  This week I'm back with, guess what, more meat wrapped in bacon! There is an appetizer from BJs that's bacon wrapped beef but its precooked and I just knew I could fry it.  So break out the deep fryer and get sizzling!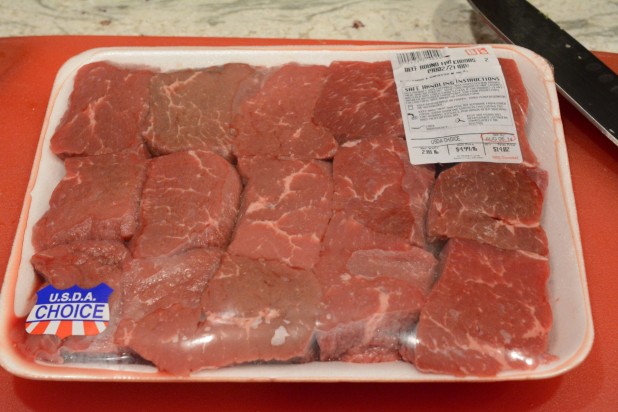 For this recipe, I used beef round eye that was already cut for kabobs.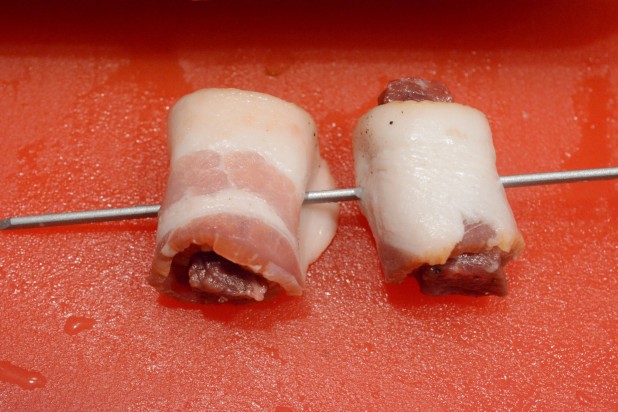 I started by cutting the beef kabob pieces into 4 rectangular sections so they were approximately 1″ x 1″ on the square side.  Basically I wanted the size down so that I could use just 1/4 a slice of bacon on each one. I then doused the beef with some Montreal Steak Seasoning for added flavor.  Then I slices a piece of bacon in half and wrapped.  You then want to use a bent metal skewer to stab through the overlapped portion of bacon and through the meat. It sounds complicated in words but you'll see what I mean when you wrap it.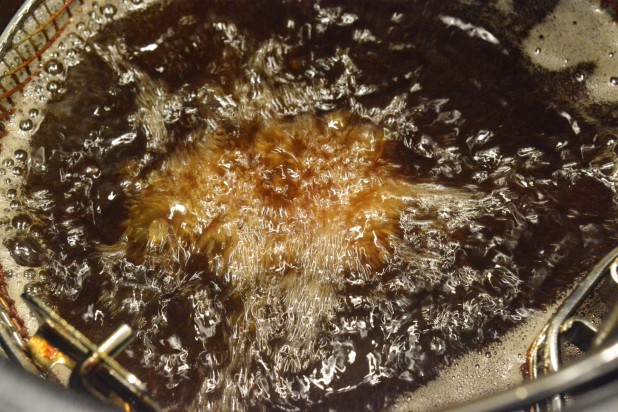 Then, off to the deep fryer they went!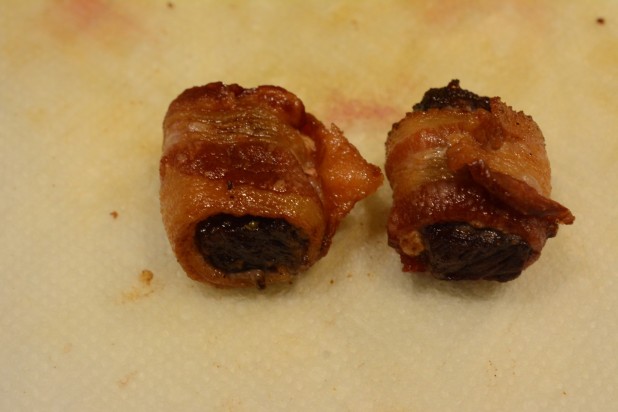 Here's a picture right out of the fryer. I really like frying bacon wrapped meat because the bacon sticks quite well. The frying acts like a glue.  Also, if you cook these in the oven you always end up with either rubbery bacon or burnt beef.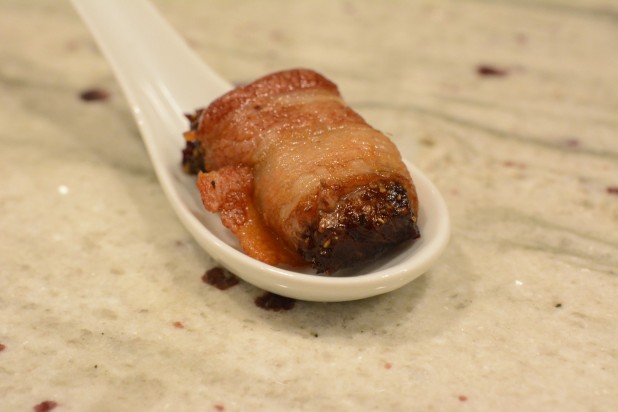 Spoons, the latest crazy in food photography!  Ok, so maybe not, but you have to admit, this is one awesome looking Beef and Bacon Roll.

Fry-day: Beef and Bacon Rolls
Nutrition Information
Serving size:

4 Pieces

Calories:

215
Fat:

10g

Saturated fat:

4g

Unsaturated fat:

0g

Trans fat:

0g

Carbohydrates:

0g

Sodium:

251mg

Fiber:

0g

Protein:

29g

Cholesterol:

73mg
Prep time:
Cook time:
Total time: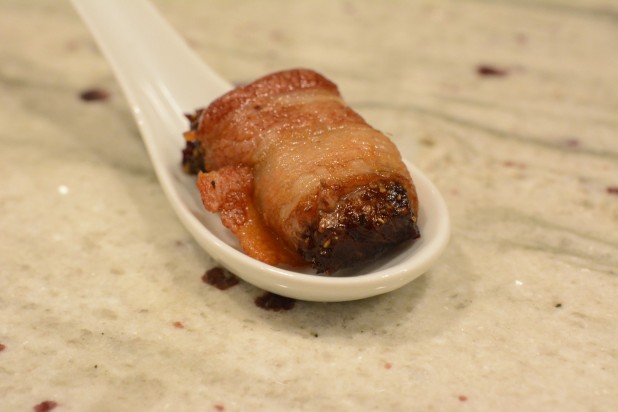 Ingredients
16 Oz. Beef
4 Slices Bacon
Montreal Steak Seasoning to Taste
Instructions
Preheat oil in deep fryer to 370 degrees
Start by cutting the beef into 1 Oz, 1" x 1" x 2" cubes
Take a piece of bacon, stretch it and then cut it into four pieces
Season the meat with Montreal Steak Seasoning
Wrap the beef with the bacon and skewer
Cook for 3 minutes in the deep fryer
DeLonghi Deep Fryer
If you follow the blog, you know that I've gotten a little obsessed lately with my Deep Fryer to the point where I post a weekly Fry-day article. I had one of these in college and it always made me feel guilty using it. I feel so liberated that there are all sorts of keto friendly fried foods like nuggets, wings and brussels sprouts!
McCormick Montreal Steak Seasoning
I don't know why but I've always loved this steak seasoning. It has the right amount of kick and has a touch of cajun without being too spicy. I wouldn't spice up a Wagu with this stuff but perfect for a quick fix on some standard meat.
Metal Skewers
Metal skewers are a great addition to any BBQ set. They're perfect for skewering some shrimp or making some kabobs. They can even be used in a deep fryer to make a super appetizers!